Welcome to the world of elegant interiors and seamless design! If you've ever experienced the frustration of furniture sliding and shifting on your beautiful hardwood floors, you're in the right place. Let's explore how to stop furniture from sliding on hardwood floors effectively.
Hardwood floors add timeless charm and sophistication to any space, but they can sometimes present a challenge when it comes to keeping your furniture firmly in place. Whether it's a wobbly chair, a wayward table, or a constantly shifting sofa, the struggle is real.
But fear not! In this guide, we'll unravel the art of maintaining a harmonious equilibrium between your exquisite hardwood floors and your cherished furniture pieces. Say goodbye to those annoying scratches, scuffs, and endless furniture readjustments.
Get ready to discover a range of effective and creative solutions that will not only prevent your furniture from sliding but also enhance the aesthetic appeal of your living spaces. Let's dive into the world of stability, style, and serenity as we learn how to stop furniture from sliding on hardwood floors.
The Main Causes Furniture from Sliding on Hardwood Floors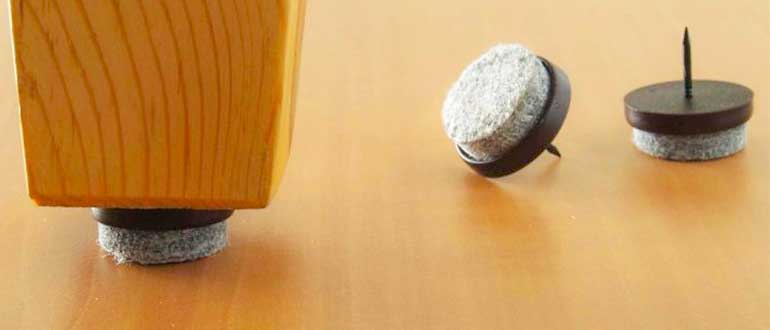 Understanding the underlying causes of furniture sliding on hardwood floors is essential to effectively addressing the issue. Several factors contribute to this common problem. By identifying these root causes, you can select the most suitable solutions to keep your furniture securely in place. Let's explore the main problems behind furniture sliding and shifting on hardwood floors.
Smooth Surface Friction: Hardwood floors often have a smooth surface that lacks the grip needed to hold furniture legs or bases in place. This smoothness can result in sliding, especially when there's any applied force or movement.
Weight Distribution: Improper weight distribution on furniture legs or feet can lead to instability and shifting. If more weight is concentrated on one side of a piece of furniture, it can cause imbalance and encourage movement.
Floor Unevenness: Even well-installed hardwood floors can have minor imperfections or irregularities. These subtle bumps or depressions can make furniture legs wobble, promoting sliding over time.
Foot Design: The design of furniture feet or legs plays a crucial role in preventing sliding. Furniture with small or narrow feet may not distribute weight evenly, increasing the likelihood of movement.
Usage and Activity: Furniture items that are frequently used, such as chairs or couches, are more prone to sliding due to the repetitive motion and weight shifts they endure.
Lack of Grip: Some furniture feet materials, like smooth plastic or metal, lack the necessary traction to grip hardwood floors effectively.
Environmental Factors: Humidity and temperature changes can cause wood to expand or contract, affecting the stability of furniture on hardwood floors.
By addressing these fundamental causes, you can take proactive measures to halt furniture sliding and maintain the elegance and functionality of your living spaces.
Prevention and Protection: To Stop Furniture From Sliding on Hardwood Floors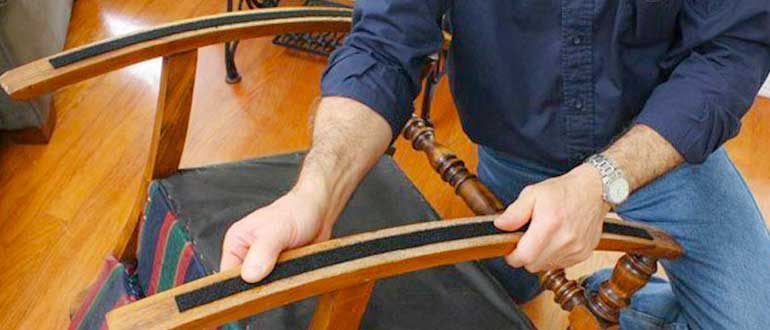 Preventing and protecting your hardwood floors from furniture sliding requires a combination of thoughtful strategies and clever solutions. Let's explore some effective ways to stop furniture from sliding on hardwood floors:
Furniture Pads or Felt Protectors: Attach furniture pads or felt protectors to the bottom of chair legs, table feet, and other furniture pieces. These soft pads create a buffer between the furniture and the floor, preventing scratches and reducing sliding by providing a slight grip.
Rubber Grips: Rubber or silicone grip pads are specifically designed to add traction between furniture and smooth floors. These pads are often self-adhesive and can be easily applied to furniture feet, offering a non-slip solution.
Area Rugs and Mats: Place area rugs or mats under furniture to create a barrier between the furniture and the floor. The texture of the rug's underside can help anchor furniture in place, reducing movement.
Furniture Stoppers or Braces: Consider using specialized furniture stoppers or braces that are designed to prevent sliding. These devices attach to furniture legs and provide additional stability by increasing the surface area in contact with the floor.
Adhesive Velcro Strips: Attach adhesive Velcro strips to the bottom of furniture legs and corresponding strips to the floor. The Velcro's grip can help keep furniture securely in place.
Caster Wheels with Locks: If your furniture has caster wheels, opt for models with built-in locks. These locks can be engaged to prevent the wheels from rolling, keeping the furniture stationary.
Furniture with Wide Feet: When selecting new furniture, prioritize pieces with wider feet or legs. Broader contact points distribute weight more evenly and reduce the likelihood of sliding.
Adjust Furniture Layout: Arrange furniture in a way that minimizes the risk of movement. For example, position heavier items closer to walls or against other stable furniture pieces.
By implementing these preventive measures, you can maintain the pristine condition of your hardwood floors and enjoy the seamless integration of furniture without the frustration of constant shifting.
DIY Project To Stop Furniture From Sliding on Hardwood Floors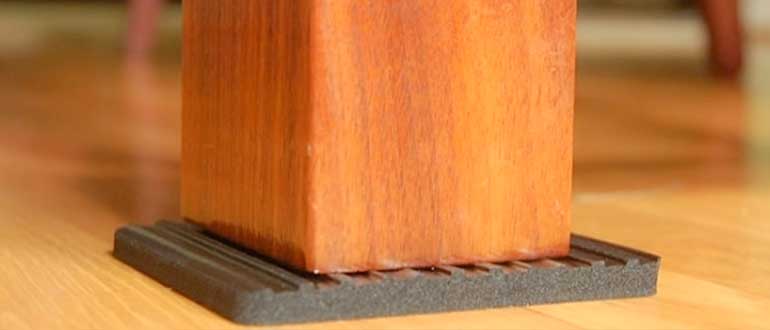 If you're feeling crafty and want to tackle a DIY project to prevent furniture from sliding on hardwood floors, here's a creative idea that combines both functionality and a touch of personal flair. Let's make custom DIY furniture grippers using leather and a few basic materials. These grippers will not only keep your furniture in place but also add a stylish touch to your home decor.
Materials You'll Need:
Leather scraps or pieces (real or faux)
Scissors
Ruler or measuring tape
Pen or marker
Strong adhesive (like E6000 or a heavy-duty double-sided tape)
Furniture feet to trace around (optional)
Cutting mat (to protect your work surface)
Hole punch (optional)
Steps:
Measure and Cut: Measure the size of the furniture feet that you want to cover. Add a little extra space around the edges for the gripper to hold onto the furniture. Use a ruler and pen to mark the dimensions on the leather.
Cut the Leather: Carefully cut out the leather pieces using scissors. For a neater finish, use a ruler as a guide.
Apply Adhesive: Apply a strong adhesive to the bottom side of each leather piece. Make sure you're using an adhesive that bonds well with both leather and wood.
Attach to Furniture: Press the leather grippers firmly onto the bottom of the furniture feet. Hold them in place for a minute or two to ensure a secure bond.
Allow to Cure: Depending on the adhesive you're using, allow the grippers to cure for the recommended time before moving the furniture. This will ensure that the bond is strong and durable.
Test and Enjoy: Test the furniture to ensure that the grippers are holding it securely in place. Now you have functional and stylish grippers that prevent sliding while adding a touch of elegance to your furniture.
These DIY leather furniture grippers offer a practical and visually appealing solution to the problem of furniture sliding on hardwood floors. You can personalize them by choosing leather in colors that complement your furniture or your overall interior design. With just a few simple steps, you'll enhance the stability of your furniture while showcasing your creative skills!
The Most Common FAQs
Here are some frequently asked questions (FAQs) related to stopping furniture from sliding on hardwood floors, along with their answers:
Q: Why is my furniture sliding on hardwood floors?
A: Furniture can slide on hardwood floors due to factors like smooth surface friction, improper weight distribution, floor unevenness, foot design, frequent usage, and environmental factors such as humidity changes.
Q: How can I prevent furniture from scratching my hardwood floors?
A: To prevent furniture from scratching hardwood floors, you can use furniture pads, felt protectors, rubber grips, or area rugs under furniture legs to create a protective barrier between the furniture and the floor.
Q: What are furniture grippers, and how do they work?
A: Furniture grippers are accessories that provide traction between furniture legs and hardwood floors. They typically have non-slip materials on their underside to prevent sliding. They work by increasing the friction between the furniture and the floor.
Q: Can I use rubber mats to stop furniture from sliding?
A: Yes, rubber mats or silicone pads can be effective in preventing furniture from sliding. Placing these mats under furniture legs can help provide grip and stability on hardwood floors.
Q: Are there DIY solutions to stop furniture from sliding?
A: Yes, there are various DIY solutions. You can make your own furniture grippers using materials like leather, felt, or rubber and attach them to furniture legs using adhesive. You can also use double-sided tape or Velcro for a quick fix.
Q: How do I choose the right furniture pads or grippers?
A: When choosing furniture pads or grippers, consider the type of furniture, weight distribution, and the floor's finish. Look for options that are designed for hardwood floors and provide a balance between grip and floor protection.
Q: Will furniture grippers leave marks on my hardwood floors?
A: High-quality furniture grippers are designed to prevent marking or damage to hardwood floors. Look for grippers with a soft, non-abrasive surface that won't scratch or leave residue.
Q: How can I make sure the grippers stay in place over time?
A: Clean the furniture legs and the floor thoroughly before applying grippers. Use strong adhesive or double-sided tape for a secure bond. Allow the adhesive to cure according to the manufacturer's instructions before using the furniture.
Q: Can I use caster wheels on hardwood floors without them sliding?
A: Yes, you can use caster wheels on hardwood floors, but it's advisable to choose wheels with soft rubber treads and locks. The rubber provides grip, and locks prevent the wheels from rolling, reducing the risk of sliding.
Q: Will the solutions for preventing furniture sliding also work on other types of flooring?
A: Many of the solutions mentioned, such as furniture pads, grippers, and rubber mats, can work on various types of flooring, including tile, laminate, and vinyl. However, it's always a good idea to check the compatibility of the solution with the specific flooring type.
By addressing these FAQs, you'll have a better understanding of how to prevent furniture from sliding on hardwood floors and other flooring types, ensuring a stable and secure living space.
Conclusion
In conclusion, maintaining the harmony between your cherished furniture and the elegant expanse of hardwood floors is within your reach. The quest to stop furniture from sliding on hardwood floors has led us through a journey of understanding, prevention, and creative solutions. By addressing the root causes of sliding, we've empowered ourselves with the knowledge needed to take action.
From the elegance of furniture pads and felt protectors to the innovation of DIY leather grippers, we've explored a range of strategies that seamlessly blend function and aesthetics. These solutions not only safeguard your hardwood floors from scratches but also enhance the stability of your furniture, transforming your living spaces into havens of tranquility and style.
Remember, the prevention of sliding is not just about practicality; it's an art that marries the form and function of your home. By carefully selecting the right tools and techniques, you can protect your hardwood floors while preserving the beauty of your interior design.
So, embrace the challenge with confidence and creativity. Armed with the insights shared here, you're well-equipped to embark on this endeavor. Bid farewell to the days of frustrating readjustments and say hello to a world where your furniture and your hardwood floors coexist harmoniously. As you put these solutions into practice, may your living spaces radiate with stability, elegance, and the joy of a well-crafted, slip-free home.
You May Also Like To Read:
How to Get Hair Dye Off of Wood Floor
Early-Stage Termites in Hardwood Floors
Mate vs. Stain Finish Hardwood Floors
Why is My Hardwood Floor Suddenly Slippery