Maintaining the cleanliness and appearance of commercial tile floors is not just about aesthetics; it's also essential for creating a safe and welcoming environment for employees and customers alike. Whether your business space boasts gleaming ceramic, porcelain, or stone tiles, knowing how to clean commercial tile floors effectively is a crucial aspect of facility management.
In this guide, we will walk you through the steps and best practices for achieving spotless, well-maintained tile floors that leave a lasting impression and contribute to the overall success of your business. So, let's embark on a journey to discover the secrets of keeping your commercial tile floors in impeccable condition.
The Tools and Materials to Clean Commercial Tile Floors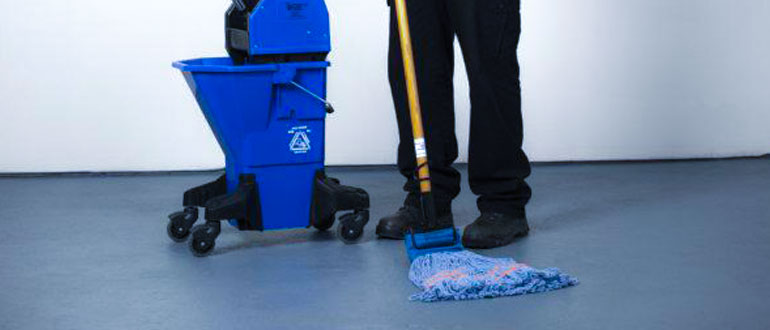 To effectively clean commercial tile floors, you'll need the right tools and materials to ensure a thorough and efficient job. Here's a list of essential items you should have on hand:
Broom or Dust Mop:
Begin by sweeping or dusting the floor to remove loose dirt, dust, and debris. This prevents scratching the tiles during the cleaning process.
Wet Mop and Bucket:
A mop and bucket are crucial for applying cleaning solutions and thoroughly scrubbing the tile surface. Consider using a mop with a removable, machine-washable head for easy maintenance.
Grout Brush or Toothbrush:
For cleaning grout lines, a small brush with stiff bristles or an old toothbrush works well. Grout can accumulate dirt and stains over time and requires special attention.
Microfiber Mop or Cloth:
Microfiber materials are excellent for capturing dirt and grime without leaving streaks behind. You can use microfiber mops or cloths for a final wipe-down to achieve a clean, streak-free shine.
Wet Vacuum Cleaner:
In larger commercial spaces or for a more thorough cleaning, consider using a wet vacuum cleaner to remove excess water and cleaning solution efficiently.
Floor Sealer (As Needed):
If your commercial tile floors require sealing to maintain their finish and prevent staining, ensure you have the appropriate sealer and application tools.
Personal Protective Equipment (PPE): 
Ensure that cleaning staff have access to personal protective equipment like aprons, masks, and non-slip shoes to maintain safety and hygiene standards during the cleaning process.
By assembling these tools and materials, you'll be well-prepared to tackle the task of cleaning and maintaining your commercial tile floors, keeping them looking their best, and extending their longevity.
The Proper Methods to Clean Commercial Tile Floors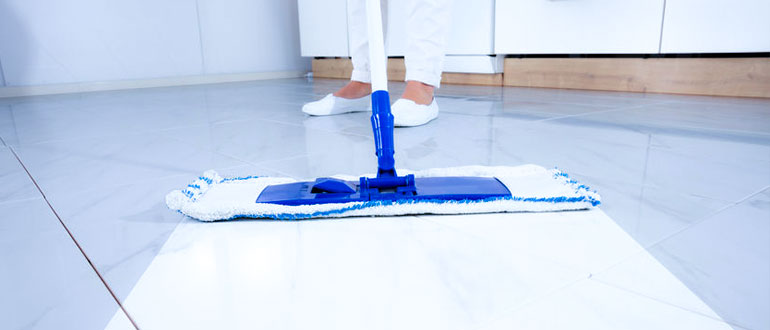 Cleaning commercial tile floors requires a systematic approach to ensure thorough cleaning without causing damage. Follow these proper methods to clean your commercial tile floors effectively:
Prepare the Area:
Remove any obstacles or furniture from the floor to ensure unrestricted access.
Place "Caution: Wet Floor" signs around the work area to alert people to potential slip hazards.
Mix Cleaning Solution:
Prepare your cleaning solution according to the manufacturer's instructions. Use a pH-neutral or mildly acidic cleaner suitable for your tile type.
Avoid using harsh chemicals that can damage tiles or grout.
Apply Cleaning Solution:
Using a mop or spray bottle, apply the cleaning solution evenly over the tile surface.
Allow the solution to sit for a few minutes to break down dirt and stains, but do not let it dry on the floor.
Scrubbing (For Stubborn Stains or Grout):
Use a grout brush or an old toothbrush to scrub grout lines or stubborn stains gently.
Be cautious not to scrub too aggressively, as this can damage grout or tiles.
Mop the Floor:
Use a clean mop soaked in the cleaning solution to mop the entire floor.
Start at one end of the room and work your way toward an exit to avoid stepping on the wet floor.
Rinse the mop frequently in the cleaning solution to avoid spreading dirt around.
Rinse the Floor:
After mopping, rinse the floor by using a clean mop dampened with clean water. This step helps remove any residual cleaner from the surface.
Change the rinse water as needed to ensure it stays clean.
Dry the Floor:
Use a dry mop or microfiber cloth to dry the floor thoroughly. This step helps prevent slip hazards and streaks.
If available, you can also use a wet vacuum cleaner to remove excess water efficiently.
Regularly following these proper methods for cleaning commercial tile floors will help maintain their appearance and extend their lifespan. Remember to adapt your cleaning schedule based on foot traffic and the specific needs of your commercial space to keep your floors looking their best.
The Best Home Remedies to Clean Commercial Ceramic Tile Floors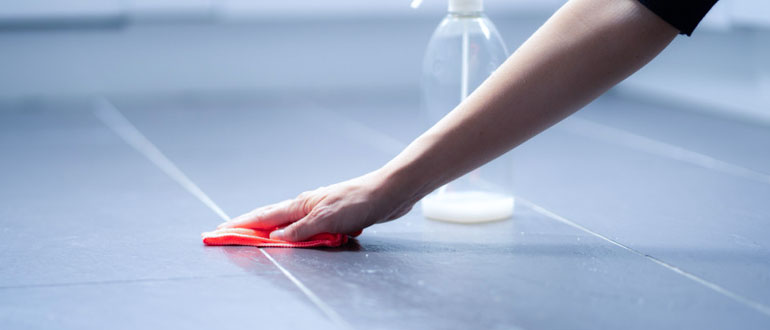 Cleaning commercial ceramic tile floors using home remedies is a cost-effective and environmentally friendly option. Here are some of the best home remedies to effectively clean commercial ceramic tile floors:
White Vinegar and Water Solution:
Mix equal parts white vinegar and warm water in a bucket.
This solution effectively breaks down dirt, grease, and stains on ceramic tiles.
Baking Soda Paste:
Create a paste by mixing baking soda with a small amount of water.
Apply the paste to stubborn stains or grout lines, let it sit for a few minutes, and scrub with a grout brush or an old toothbrush.
Lemon Juice:
Lemon juice can help remove stains and add a fresh scent to your cleaning solution.
Mix lemon juice with water and use it to clean the ceramic tile floor.
Hydrogen Peroxide:
Hydrogen peroxide can be used to remove stains and disinfect the floor.
Mix equal parts hydrogen peroxide and water, apply it to the stained area, and let it sit for a few minutes before scrubbing.
Olive Oil and Vinegar:
Combine equal parts olive oil and white vinegar for a natural, homemade tile polish.
Apply a small amount to a cloth and buff the tiles to a shine.
Tea Tree Oil:
Tea tree oil has natural antibacterial properties and can be added to your cleaning solution for extra disinfection.
A few drops mixed with warm water and vinegar work well.
Always test any new cleaning solution or remedy on a small, inconspicuous area of the tile to ensure it doesn't cause any damage or discoloration. Additionally, follow the proper cleaning steps, such as sweeping or dusting before wet cleaning, to avoid scratching the tiles.
The Most Common FAQs
Here are some frequently asked questions (FAQs) related to cleaning commercial ceramic tile floors, along with their answers:
Q: How often should I clean commercial ceramic tile floors?
A: The frequency of cleaning depends on the level of foot traffic your commercial space receives. Generally, weekly cleaning is sufficient for low-traffic areas, while high-traffic areas may require daily or more frequent cleaning.
Q: Can I use bleach to clean ceramic tile floors?
A: While bleach can be effective for removing stains, it should be used sparingly and in a well-ventilated area. Excessive use of bleach can damage grout and discolor tiles over time. Consider milder cleaning solutions first.
Q: How can I prevent my ceramic tile floors from becoming slippery after cleaning?
A: To prevent slip hazards, make sure to thoroughly dry the floor after cleaning. Use a dry mop or microfiber cloth, or a wet vacuum cleaner, to remove excess water. Also, consider using slip-resistant mats in high-risk areas.
Q: Can I use vinegar on all types of ceramic tile floors?
A: Vinegar is generally safe for cleaning ceramic tiles, but it may not be suitable for all types of tiles. Avoid using vinegar on natural stone tiles like marble, as the acidity can damage them. For natural stone tiles, consult the manufacturer's recommendations.
Q: How do I clean grout on commercial ceramic tile floors?
A: To clean grout, make a paste using baking soda and water or a commercial grout cleaner. Apply the paste to the grout lines, let it sit for a few minutes, and then scrub with a grout brush or an old toothbrush. Rinse thoroughly.
Q: What's the best way to maintain the shine on ceramic tile floors?
A: Regular cleaning and proper maintenance will help maintain the shine. Avoid using abrasive cleaners that can dull the surface. You can also occasionally apply a ceramic tile floor polish to enhance shine.
Q: Can I use a steam cleaner on ceramic tile floors?
A: Yes, steam cleaners can be used on ceramic tile floors to remove dirt and grime effectively. Be sure to follow the manufacturer's instructions and avoid using excessive heat, as this can potentially damage the grout.
Q: How can I remove tough stains from ceramic tile floors?
A: For tough stains, consider making a paste with baking soda and water. Apply it to the stain, let it sit for a few minutes, and then scrub gently. You can also use hydrogen peroxide for certain stains.
Q: What should I do if my grout is discolored or damaged?
A: If grout is severely discolored or damaged, it may need to be regrouted. This is a more extensive process and may require professional assistance.
Q: Is it necessary to seal ceramic tile floors?
A: While ceramic tiles themselves don't need sealing, the grout should be sealed to protect it from stains and moisture. Regular resealing may be required, depending on the type of grout used.
Always follow the manufacturer's recommendations for cleaning and maintenance, and adapt your cleaning routine based on the specific needs of your commercial ceramic tile floors and the level of foot traffic they receive.
Conclusion
In conclusion, maintaining the cleanliness and appearance of commercial ceramic tile floors is essential for businesses. Regular maintenance, including sweeping and dusting, provides a foundation for effective cleaning. Choosing the right cleaning solutions, whether commercial or eco-friendly home remedies, ensures both cleanliness and the preservation of tile and grout integrity.
Attention to grout lines is vital, as they can accumulate dirt and stains over time, requiring periodic scrubbing and resealing. Safety measures, such as using caution signs and proper personal protective equipment, must not be overlooked during the cleaning process.
Thorough drying is crucial to prevent slip hazards and streaks, while grout sealing helps protect against stains and moisture infiltration. Lastly, adapting the cleaning frequency to the specific needs and traffic in your commercial space is key to maintaining a clean, welcoming, and professional environment. Clean and well-maintained floors enhance the overall aesthetic appeal of your business, leaving a positive impression on customers and employees alike.
You May Also Like To Read: