In the enchanting world of nature's mysteries, even the tiniest creatures can wield immense power. Enter the realm of early-stage termites in hardwood floors, unassuming insects that play a profound role in the delicate balance of ecosystems. In this exploration, we venture into the hidden depths of hardwood floors, where these diminutive architects quietly shape their environment.
Far from being mere pests, early-stage termites in hardwood floors unveil a fascinating tale of resilience, cooperation, and nature's intricate web of life. It's tempting to label termites as mere nuisances, responsible for structural damage and financial woes. But before we hastily cast them into the role of villains, let's delve deeper into their lives.
Termites, often overlooked in favor of more charismatic species, possess a remarkable social structure that rivals even the most intricate human societies. Their colonies are societies of cooperation, division of labor, and teamwork, each member contributing to the greater good.
Join us as we journey beyond the surface of those elegant hardwood floors, peeling back the layers to reveal a world teeming with wonder. Let's set aside preconceptions and embark on a voyage of understanding, appreciating the early-stage termites in hardwood floors for the ecological wonders they truly are.
Early-stage Termites in Hardwood Floors: The Common Signs of Termites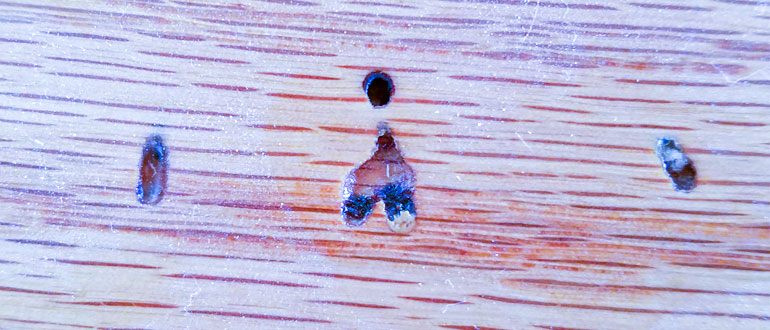 Beneath the polished veneer of hardwood floors, a silent menace can lurk, gradually eroding the very foundation of your home. Termites, the hidden architects of destruction, can wreak havoc before you even realize they're there. To thwart their clandestine activities, it's crucial to recognize the signs that betray their presence.
1). Mysterious Mud Tubes:
One of the hallmark signs of termite activity is the appearance of mud tubes. These narrow tunnels, constructed from soil, wood particles, and termite saliva, serve as protected highways that connect their subterranean nests to their feeding sites, which could be your prized hardwood floors. The tubes provide shelter and moisture, allowing termites to move undetected across even the smoothest surfaces.
2). Telling Sawdust:
Termites are master carpenters, leaving behind telltale sawdust-like frass as they chew through wood. If you spot tiny piles of powdery material accumulating near your hardwood floors, it could be a strong indicator of their presence. The termites push this frass out of their tunnels, creating small, distinctive mounds as they continue to dine on your flooring.
3). Hollow Sounds:
A haunting indicator of termite infestation is the hollow sound that emanates when you tap on a wooden surface. Termites consume wood from the inside out, leaving behind a thin veneer that can deceive the eye. If you notice an unusual lack of resonance when tapping on your hardwood floors, it's time to investigate further.
4). Discarded Wings:
Reproductive termites, also known as swarmers, emerge from mature colonies to establish new ones. After mating, they shed their wings, which can accumulate near windowsills, doorways, or other entry points. If you find discarded termite wings indoors, it suggests that a nearby colony is actively reproducing and seeking new areas to infest, possibly including your hardwood floors.
5). Sagging or Buckling Floors:
As termites consume wood, they weaken its structural integrity. This can cause hardwood floors to start sagging or buckling, creating noticeable unevenness underfoot. If you notice these signs, especially in conjunction with other indicators, it's imperative to investigate further to confirm the presence of termites.
6). Swarming Activity:
Termites typically swarm during warmer months, often after rain. If you observe groups of winged termites emerging en masse, it's a clear sign that a nearby termite colony is mature and seeking to establish new nests. Prompt action is essential to prevent these swarming termites from choosing your hardwood floors as their new home.
7). Termite Droppings:
Termites excrete droppings known as "frass," which resemble small pellets and are often found near their feeding areas. These droppings can accumulate in piles and might look like a dark powdery substance. The presence of termite droppings signifies an active termite infestation nearby.
Vigilance is your best defense against the stealthy invaders that are termites. Regularly inspecting your hardwood floors and the areas around them can help you catch termite infestations in their early stages, preventing extensive damage and costly repairs. Remember, by staying attuned to these common signs, you're empowering yourself to protect the integrity and beauty of your home.
The Best Prevention and Treatment of Termite Infestation on Hardwood Floors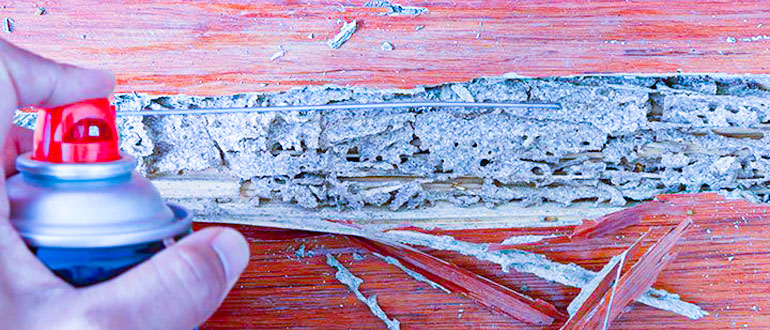 The thought of termites quietly feasting on your beloved hardwood floors can send shivers down any homeowner's spine. Yet, fear not, for with awareness and proactive measures, you can shield your home from these subtle invaders. In this guide, we unveil the best strategies for both preventing and treating termite infestations on your cherished hardwood floors, ensuring your haven remains strong, beautiful, and termite-free.
Prevention:
Regular Inspections: Schedule routine inspections of your home, focusing on vulnerable areas like basements, crawl spaces, and around the foundation. Engage professional pest control experts to conduct thorough checks, identifying potential entry points and early signs of termite activity.
Minimize Wood-to-Ground Contact: Termites thrive in environments where wood and soil meet. Keep wooden structures, including supports and firewood, raised above ground level to reduce the risk of termite infestations.
Seal Cracks and Openings: Seal any gaps, cracks, or openings in your home's foundation, walls, and around utility entrances. Termites can exploit even the tiniest crevices as entry points.
Proper Drainage: Ensure that your property has adequate drainage to prevent moisture buildup around your home's foundation. Termites are drawn to moisture-rich environments, so proper drainage can deter their interest.
Ventilation: Maintain proper ventilation in crawl spaces and attics to prevent humidity accumulation. Ventilation helps create less appealing conditions for termites, reducing the likelihood of infestations.
Termiticide Barrier: Professional pest control companies can apply termiticides as a preventive measure. These chemicals create a protective barrier around your home's foundation, deterring termites from approaching.
Use Termite-Resistant Materials: When considering home renovations or additions, opt for termite-resistant materials like concrete, steel, or pressure-treated wood. These materials are less appetizing to termites, reducing the risk of infestation.
Treatment:
Professional Assessment: At the first sign of termite activity, seek the expertise of a licensed pest control professional. They can accurately assess the extent of the infestation and recommend appropriate treatment options.
Localized Treatment: For localized infestations, spot treatments involving targeted application of termiticides can be effective. This method aims to eliminate the termites present in the affected area.
Baiting Systems: Termite baiting systems strategically place bait stations around your property. Termites consume the bait and share it with the colony, eventually leading to its elimination.
Liquid Termiticides: Liquid termiticides are applied to the soil around your home's foundation. Termites come into contact with the treated soil and transfer the chemicals to the colony, effectively eradicating it.
Fumigation: In severe cases, fumigation might be necessary. This involves enclosing your home and introducing a gas that penetrates every nook and cranny, eliminating termites throughout the structure.
Wood Replacement: In instances where termite damage is extensive, wood replacement might be required. Damaged sections of hardwood floors can be replaced with treated wood to prevent future infestations.
Vigilance and Action:
Preventing and treating termite infestations on hardwood floors requires vigilance, knowledge, and professional assistance. By combining preventive measures with timely treatments, you're fortifying your home against the silent architects of destruction. Remember, a proactive approach is your best defense, ensuring that your cherished hardwood floors remain a symbol of beauty and longevity for years to come.
Early-stage Termites in Hardwood Floors: Understanding The Dangers of Termite Infestations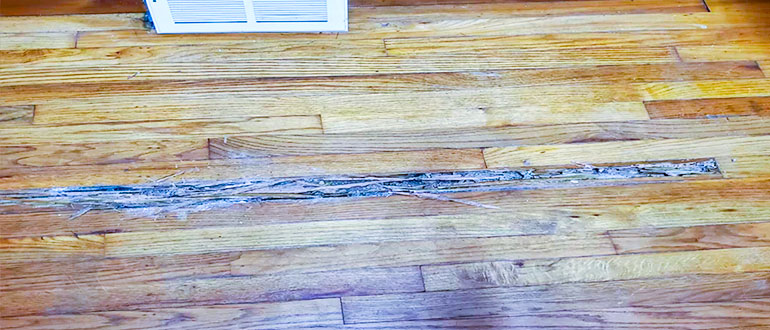 In the world of household pests, few adversaries are as insidious and destructive as termites. These silent invaders, often overlooked until it's too late, can wreak havoc on the very foundation of your home – your hardwood floors. Beyond the surface, the dangers of termite infestations on hardwood floors run deep, threatening not only the structural integrity of your dwelling but also your financial investment and peace of mind. Let's delve into the perilous consequences of termite presence and the urgent need to address them.
Structural Compromise:
Termites are relentless wood eaters, making hardwood floors susceptible to structural compromise. They consume wood from the inside out, leaving a thin veneer that disguises the true extent of the damage. Over time, weakened floors can sag, buckle, or even collapse underfoot, posing safety hazards to residents and visitors alike.
Financial Toll:
The financial toll of termite infestations can be substantial. Repairing or replacing damaged hardwood floors is not only costly but can also disrupt your daily life. Moreover, termite damage might extend beyond flooring, affecting structural components like support beams, walls, and even the roof. The expenses associated with termite eradication, repairs, and preventive measures can quickly add up, straining your finances.
Decreased Property Value:
A home afflicted by termite damage loses its appeal and value in the real estate market. Potential buyers may shy away from properties with a history of termite infestations or existing damage. Even if you manage to address the issue before selling, you might be required to disclose past infestations, which can significantly impact the resale value of your home.
Compromised Aesthetics:
Hardwood floors contribute to the aesthetics and ambiance of a home. Termite damage can mar the beauty of these surfaces, leaving unsightly grooves, holes, and unevenness. The need for repairs or replacement can disrupt the overall aesthetic harmony of your living spaces.
Health Concerns:
While termites themselves are not known to pose direct health risks to humans, their presence can contribute to mold growth and moisture accumulation. This can lead to indoor air quality issues, especially if mold spores are released into the air. Additionally, some people might experience allergic reactions to termite frass (droppings) and debris, exacerbating respiratory conditions.
Rapid Infestation Expansion:
Termite colonies can grow rapidly, with thousands to millions of individuals working together. If left unchecked, these colonies can spread to other parts of your home beyond the hardwood floors, causing damage in hidden areas that are harder to detect.
The dangers of termite infestations on hardwood floors extend far beyond cosmetic concerns. These pests jeopardize the stability of your home, your finances, and your peace of mind. Recognizing the subtle signs of infestations and taking prompt action is essential to mitigate these risks. By addressing termite infestations swiftly and decisively, you're safeguarding not only the physical aspects of your home but also the sense of security that it provides.
 Early-Stage Termites in Hardwood Floors: The Common Causes of Infections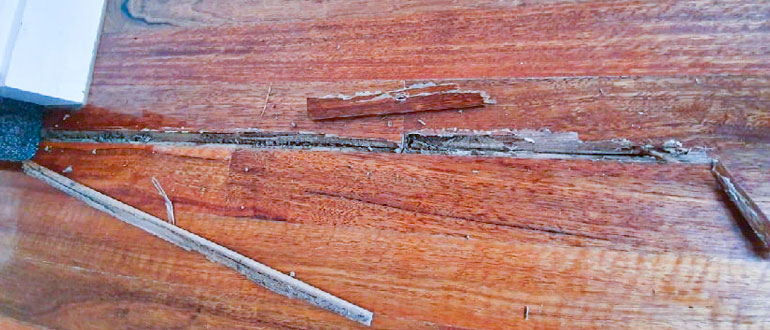 Within the intricate tapestry of nature's cycles, certain circumstances provide fertile ground for the emergence of termite infestations. Termites, those relentless architects of destruction, are drawn to specific conditions that enable their survival and proliferation. Let's delve into the common causes that can lead to termite infestations on hardwood floors, empowering you to take preventive measures and safeguard your cherished spaces.
Moisture Accumulation:
Termites are attracted to moisture-rich environments. Leaky pipes, faulty drainage systems, or areas with poor ventilation can create the perfect conditions for these pests to thrive. Moisture weakens wood, making it more susceptible to termite attacks. Hardwood floors in damp spaces become prime targets for infestations.
Wood-to-Ground Contact:
When wood comes into direct contact with the ground, it provides an easy pathway for termites to access your home. Wooden supports, foundations, and even untreated firewood stored near your home can become bridges for termites to reach your hardwood floors.
Wooden Debris and Mulch:
Leaving wooden debris, such as discarded lumber or wood chips, in your yard creates attractive habitats for termites. Mulch, often used for landscaping, can also harbor moisture and provide a haven for these pests. If placed too close to your home, it can become a potential conduit for termite infestations.
Untreated Wood:
Wood that hasn't been treated with termite-resistant compounds is like a banquet invitation for these insects. Building structures or using untreated wood near your home increases the likelihood of termite infestations. This includes using untreated wood for construction, landscaping, or even firewood storage.
Cracks and Openings:
Termites are experts at finding tiny openings. Cracks in your home's foundation, gaps around utility entrances, or unsealed entry points provide easy access for termites. Once they infiltrate these spaces, they can quickly make their way to your hardwood floors.
Lack of Regular Inspections:
Neglecting routine inspections of your home's exterior and interior can allow termite infestations to go unnoticed. By the time signs of infestations become evident, the damage may already be extensive. Regular inspections can help catch infestations at an early stage, preventing further harm.
Proximity to Termite Habitats:
Homes situated near areas with known termite activity – such as wooded areas, gardens, or untreated wooden structures – are at higher risk. Termites can easily move from these habitats to your home, targeting your hardwood floors and other wooden structures.
Lack of Professional Pest Control:
Without professional pest control measures in place, the risk of termite infestations increases. Professional pest control experts can conduct preventative treatments, identify vulnerabilities, and take action to mitigate termite threats before they escalate.
Understanding the common causes that lead to termite infestations on hardwood floors empowers you to take proactive steps to prevent these pests from gaining a foothold in your home. By addressing these underlying causes, you're building a robust defense against the silent architects of destruction, ensuring your hardwood floors remain a source of beauty and strength for years to come.
FAQs
FAQs: Early Stage Termites in Hardwood Floors
Q: What are early-stage termites?
A: Early-stage termites refer to the initial phases of a termite colony's development. These young colonies are establishing their nests and often display less conspicuous signs of activity compared to mature colonies.
Q: How can I identify the infections of early-stage termites on hardwood floors?
A: Early-stage termite infestations might exhibit subtle signs such as mud tubes, frass (termite droppings), hollow-sounding wood, and even discarded wings. These signs can be easy to overlook but are crucial indicators of termite presence.
Q: What do termite mud tubes look like?
A: Termite mud tubes are narrow, soil-like tunnels that termites build to move between their nests and feeding sites. They can appear as thin lines on walls or along the edges of hardwood floors.
Q: Can early-stage termites in hardwood floors damage hardwood floors?
A: Yes, termites can cause significant damage to hardwood floors. They consume the wood from the inside out, weakening the structural integrity and potentially causing sagging, buckling, or even collapse.
Q: What should I do if I suspect early-stage termites in hardwood floors infestations?
A: If you suspect early-stage termites in hardwood floors infestations, it's advisable to consult a professional pest control expert. They can conduct a thorough inspection, accurately identify termite activity, and recommend appropriate treatments.
Q: Are there any DIY methods to deal with early-stage termites?
A: While some DIY methods might offer temporary relief, early-stage termite infestations require targeted and professional treatments. It's best to consult with experts who have the knowledge and tools to effectively address termite activity.
Q: Can I prevent early-stage termites in hardwood floors infestations on hardwood floors?
A: Yes, you can take preventive measures. Minimize wood-to-ground contact, fix moisture issues, seal cracks, and schedule regular professional inspections to detect and address vulnerabilities before termites establish themselves.
Q: Are early-stage termites in hardwood floors infestations dangerous to my health?
A: Termites themselves are not known to pose direct health risks to humans. However, their presence can contribute to moisture buildup and mold growth, which might affect indoor air quality and exacerbate respiratory conditions.
Q: How do early-stage termites in hardwood floors affect the value of my property?
A: Termites can significantly decrease the value of a property due to the potential for structural damage and the stigma associated with infestations. Prospective buyers may be wary of purchasing homes with termite history.
Q: Can early-stage termites in hardwood floors infestations spread quickly?
A: Yes, termites colonies can grow rapidly, and infestations can spread if not addressed. Early detection and timely intervention are crucial to prevent further expansion and damage.
Remember, when it comes to early-stage termite infestations in hardwood floors, awareness, and professional expertise are your best allies. Regular inspections, proactive prevention, and swift action in collaboration with pest control experts can help you maintain the integrity of your hardwood floors and the safety of your home.
Conclusion
As we conclude our journey into the hidden world of early-stage termites in hardwood floors, a deeper appreciation for the delicate balance between nature and our living spaces emerges. Termites often underestimated, wield the power to shape the very foundations of our homes. Their presence, though subtle, can unleash a cascade of consequences that touch upon our finances, emotions, and the very structure of our abode.
Prevention stands as our steadfast ally, with its arsenal of measures – from managing moisture and sealing openings to embracing termite-resistant materials. By acting proactively and enlisting the guidance of professional pest control experts, we construct a barrier against the relentless architects of the destruction of early-stage termites in hardwood floors.
Yet, the journey does not end with prevention. Should the need arise, we must be prepared to face termite infestations head-on. Treatment strategies, both localized and comprehensive, come to our aid. Through termiticides, baiting systems, and the expertise of professionals, we reclaim our spaces and restore the sanctity of our homes.
As you stand upon your hardwood floors, remember that beneath their beauty lies a story of resilience and adaptation. By embracing this knowledge, you stand as a guardian, ensuring that the legacy of your home endures for generations, untainted by the subtle intrusions of early-stage termites.
You May Also Like To Read:
Can Fleas Live on Hardwood Floors
How to Fix Cracks in Hardwood Floors