Welcome to a world of comfort and elegance, where the gentle touch of nature graces your home through the warm embrace of hardwood floors. These timeless marvels bring a touch of sophistication and charm to any living space, with their enduring beauty and durability. Yet, amidst the serenity they offer, you've stumbled upon an unexpected twist—your once sure-footed hardwood floors have taken on an unanticipated trait, becoming mysteriously slippery. Let's explore why are my hardwood floors suddenly slippery and how can I fix the problem effectively.
This enigma, while puzzling, is not uncommon. Join us as we embark on a journey to uncover the reasons behind this sudden slipperiness, shedding light on the factors that might have conspired to alter the familiar texture of your beloved floors.
Hardwood floors, known for their sturdiness and reliability, usually offer a reassuring grip as you move about your daily life. However, when they take an unexpected turn towards slipperiness, it can raise questions and concerns. It's crucial to understand that this phenomenon isn't always due to a single, definitive cause. Instead, a combination of factors, both environmental and maintenance-related, could be at play.
So, if you've found yourself pondering over the sudden slipperiness of your hardwood floors, join us as we demystify the puzzle piece by piece. Let's unravel the intricacies together, rediscovering the beauty and safety of your living space—one step at a time.
The Main 7 Reasons Why Your Hardwood Floors Are Suddenly Slipper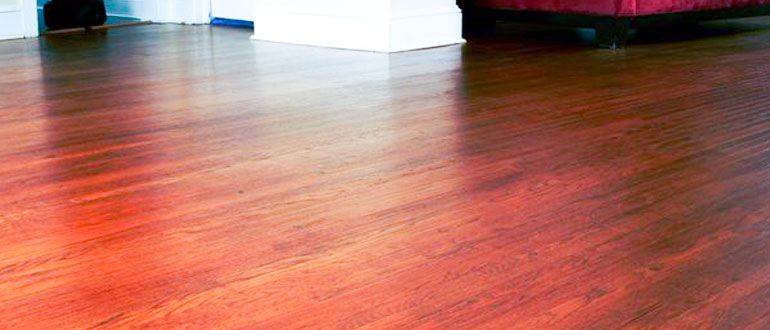 Here are seven main reasons why your hardwood floors might have suddenly become slippery:
1). Humidity Changes:
Hardwood is sensitive to fluctuations in humidity. If the air becomes too humid, the wood can absorb moisture and swell, causing a smoother and potentially more slippery surface. Conversely, during dry conditions, the wood might shrink, revealing gaps that can accumulate dirt and make the floor slippery.
2). Excess Moisture:
Spills, leaks, or excessive cleaning with water can lead to the accumulation of moisture on your hardwood floors. This can not only damage the wood but also create a slick surface as water mixes with dirt or cleaning products.
3). Worn Finish:
The finish on hardwood floors provides protection and traction. Over time, the finish can wear down due to foot traffic, cleaning agents, or age. A worn finish may lose its textured grip, making the floor feel slippery.
4). Residue Buildup:
Cleaning products, waxes, or oils that aren't properly rinsed or removed during cleaning can leave behind a residue. This residue can create a slick layer on the floor's surface, making it slippery to walk on.
5). Polishing and Waxing:
While these methods can enhance the shine of your hardwood, they might also make the surface smoother and more slippery. It's essential to strike a balance between achieving a glossy appearance and maintaining adequate traction.
6). Contaminants:
Dirt, dust, and debris that accumulate on the floor over time can reduce friction and make the surface slippery. Regular cleaning and maintenance are crucial to prevent this from happening.
7). Foot Traffic:
Heavy foot traffic, especially with shoes that have hard and smooth soles, can gradually wear down the finish and create a polished, slippery path on the floor.
To address these issues and restore the safety of your hardwood floors, consider the following steps:
Regular Cleaning: Sweep, vacuum, or mop the floors regularly to prevent dirt and debris buildup.
Use Proper Cleaning Products: Choose cleaning agents specifically formulated for hardwood floors. Ensure proper rinsing to prevent residue buildup.
Monitor Humidity: Use a humidifier during dry seasons and control humidity levels to prevent extreme expansions and contractions of the wood.
Repair and Refinish: If the finish is worn, consider refinishing the floors to restore their texture and traction.
Rugs and Mats: Place rugs or mats with non-slip backings in high-traffic areas to provide additional traction.
By identifying the root cause and implementing appropriate solutions, you can once again enjoy the charm and safety of your hardwood floors without worrying about sudden slipperiness.
How to Make Hardwood Floors Less Slippery?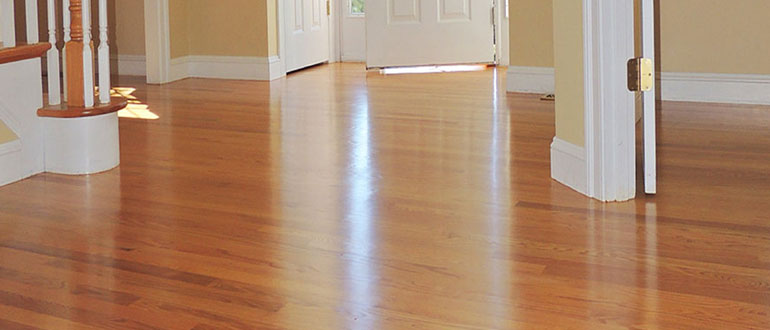 To make your hardwood floors less slippery, you can take several steps to enhance their traction and safety. Start by ensuring regular cleaning and maintenance. Sweep or vacuum the floors frequently to remove dirt and debris that can contribute to a slippery surface. When mopping, use a damp mop and a hardwood floor-friendly cleaner to effectively clean without leaving behind residue that could make the floor slick.
Consider using area rugs or mats with non-slip backings in high-traffic areas. These not only add an element of decor but also provide an extra layer of traction. Just be sure to choose rugs that won't damage or discolor the hardwood underneath.
If your hardwood floors have a worn finish or show signs of polishing, consider refinishing them. This process involves sanding down the existing finish and applying a new one, which can restore the original texture and grip of the wood.
Additionally, maintaining proper humidity levels in your home can prevent the wood from becoming overly dry or humid, which can affect its traction. Using a humidifier during dry seasons can help prevent excessive shrinkage of the wood.
Lastly, encourage family members and guests to remove their shoes before walking on the hardwood floors. Shoes with hard and smooth soles can contribute to wear on the finish, potentially making the surface more slippery. By implementing these measures, you can significantly reduce the slipperiness of your hardwood floors and create a safer and more comfortable living environment.
The Best Preventive Techniques Make Your Hardwood Floors Less Slippery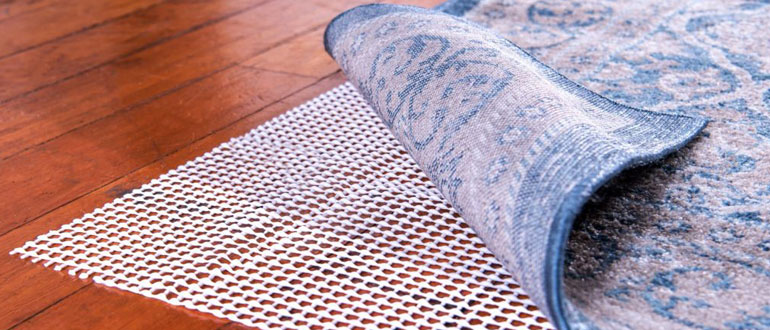 When it comes to preventing slipperiness on your hardwood floors, a proactive approach can make all the difference. Here are some of the best preventive techniques to ensure your floors remain safe and comfortable:
1). Choose the Right Finish:
Opt for finishes that offer a good balance between aesthetics and traction. Matte or satin finishes tend to provide a better grip compared to high-gloss finishes.
2). Regular Cleaning Routine:
Establish a consistent cleaning routine that includes sweeping, dusting, and vacuuming to keep dirt and debris from accumulating. Use a soft-bristle broom or a vacuum cleaner with a hardwood floor attachment to avoid scratching the surface.
3). Non-Slip Mats and Rugs:
Place non-slip mats and rugs strategically in areas prone to moisture or heavy foot traffic. These accessories not only enhance safety but also add a touch of style to your living space.
4). Furniture Pads:
Attach felt or rubber pads to the legs of your furniture to prevent them from scratching the floor and causing unnecessary wear. These pads also help keep furniture in place, minimizing the risk of slips.
5). Shoes Off Indoors:
Encourage family members and guests to remove their shoes upon entering your home. Bare feet or socks provide better traction than shoes with smooth soles.
6). Promptly Wipe Spills:
Accidental spills are inevitable, but wiping them up immediately can prevent moisture from seeping into the wood and creating a slippery surface.
7). Humidity Control:
Maintain a consistent indoor humidity level, ideally between 40% and 60%, to prevent the wood from becoming overly dry or damp. Use a humidifier or dehumidifier as needed, especially during extreme weather conditions.
8). Regular Maintenance:
Inspect your floors periodically for signs of wear, scratches, or changes in texture. Addressing minor issues promptly can prevent them from worsening and contributing to slipperiness.
9). Use Traction-Enhancing Products:
Explore the market for traction-enhancing products designed for hardwood floors. These can include sprays, coatings, or tapes that improve grip without compromising the floor's appearance.
10). Appropriate Footwear:
When indoors, wear footwear with rubber or non-slip soles. This simple adjustment can significantly reduce the risk of slipping.
11). Caution with Cleaning Products:
Use hardwood floor-friendly cleaning products and follow manufacturer instructions. Avoid excessive use of water or cleaners that can leave behind a residue, making the floor slippery.
By proactively implementing these preventive techniques, you can maintain the beauty and safety of your hardwood floors, ensuring that they remain a welcoming and secure foundation for your home's daily activities.
FAQs
Here are some frequently asked questions (FAQs) about the cause of hardwood floors suddenly slippery.
Q1: Why have my hardwood floors become suddenly slippery?
A: Several factors could contribute to this change. Common reasons include humidity fluctuations, excess moisture from spills or cleaning, worn finish, residue buildup from cleaning products, and wear patterns caused by foot traffic.
Q2: How can humidity affect hardwood floors' slipperiness?
A: Humidity can cause wood to expand or contract. Excessive humidity might lead to wood absorbing moisture and swelling, creating a smoother surface. Conversely, low humidity can lead to shrinking and gaps, which could accumulate dirt and contribute to slipperiness.
Q3: Can cleaning products make hardwood floors slippery?
A: Yes, if cleaning products leave behind a residue, they can create a slick surface. Always use hardwood-friendly cleaning agents and ensure proper rinsing to prevent this issue.
Q4: What can I do to make my hardwood floors less slippery?
A: Implement preventive measures such as using non-slip rugs or mats, applying anti-slip coatings, choosing the right finish, maintaining a regular cleaning routine, and controlling indoor humidity levels.
Q5: Should I refinish my hardwood floors to reduce slipperiness?
A: If your floors have a worn finish, refinishing them could restore their texture and grip. Consult a professional or consider doing it yourself if you're comfortable with the process.
Q6: Can I use area rugs to prevent slipperiness?
A: Yes, strategically placing rugs with non-slip backings in high-traffic areas can add traction. They also protect your hardwood floors and enhance your décor.
Q7: Can I prevent slipperiness by controlling humidity?
A: Yes, maintaining balanced humidity levels (around 40-60%) can prevent extreme expansion or contraction of the wood. Using a humidifier or dehumidifier can help achieve this balance.
Q8: What's the role of furniture pads in preventing slipperiness?
A: Furniture pads with felt or rubber can prevent furniture from sliding, scratching the floor, and creating wear patterns. They also aid in maintaining a safe environment.
Q9: Can using the right footwear help prevent slipperiness?
A: Absolutely. Bare feet or footwear with rubber or non-slip soles offer better traction on hardwood floors compared to shoes with smooth soles.
Q10: Are there specific cleaning products I should avoid?
A: Avoid products that leave behind residue or contain substances that can damage the finish. Stick to cleaning agents recommended for hardwood floors and follow manufacturer guidelines.
Remember, the sudden slipperiness of your hardwood floors often has multiple potential causes. By understanding these factors and taking proactive measures, you can ensure the safety and comfort of your living space while preserving the timeless charm of your hardwood floors.
Conclusion
In Conclusion, Discovering that your once sure-footed hardwood floors have become suddenly slippery can be disconcerting. However, understanding the various factors at play can help you regain control and ensure the safety of your living space.
From changes in humidity levels and excess moisture to worn finishes and residue buildup from cleaning products, a combination of elements can contribute to this shift in texture. Our journey through the possible causes has revealed the intricate relationship between the nature of hardwood and its environment.
The good news is that you're not alone in this predicament. By implementing preventive techniques such as using non-slip mats, maintaining a regular cleaning routine, controlling humidity, and considering refinishing, if necessary, you can restore the familiarity and security of your hardwood floors.
With these insights, you're now equipped to address the slipperiness issue with confidence and proactive solutions. Remember, maintaining the charm and safety of your hardwood floors is well within your reach, allowing you to continue enjoying the timeless elegance they bring to your home.
You May Also Like To Read:
How to Coats of Polyurethane on Hardwood Floors