After completing a home renovation or construction project that involves drywall work. There's one inevitable challenge that every homeowner or contractor faces. Cleaning up the stubborn and pervasive drywall dust that seems to settle everywhere, especially on your floors. Let's explore how to clean drywall dust off floors effectively as a DIY project.
This fine, powdery residue can be a real nuisance but fear not – with the right approach and a little bit of elbow grease, you can restore your floors to their former glory. In this guide, we will walk you through the step-by-step process of effectively cleaning drywall dust off your floors.
Whether you've recently undertaken a DIY project, hired professionals for renovations, or are simply looking for tips to maintain a clean and dust-free home, our methods and suggestions will help you achieve pristine floors once again. Say goodbye to those pesky particles that cling to your surfaces, and hello to a fresh and inviting living space!
Gather Necessary Tools and Supplies to Clean Drywall Dust Off Floors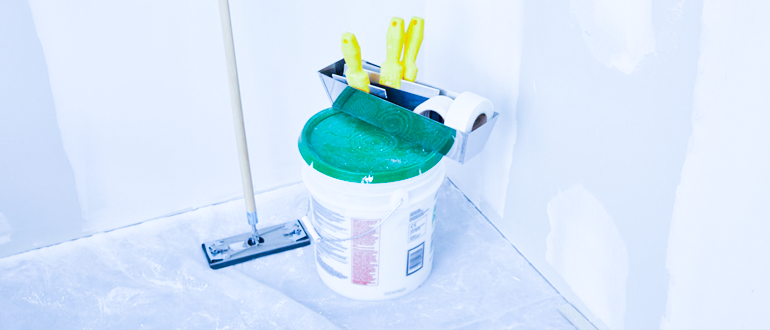 Before you embark on the journey of cleaning drywall dust off your floors, it's essential to gather all the necessary tools and supplies. Having the right equipment on hand will make the cleaning process more efficient and effective. Here's a list of what you'll need:
Dust mask or respirator: Protect your lungs from inhaling fine dust particles.
Safety goggles: Shield your eyes from any airborne debris.
Broom with soft bristles: Ideal for sweeping up loose dust without scratching the surface.
Dustpan: To collect the swept dust for disposal.
A vacuum cleaner with a HEPA filter: A vacuum is crucial for removing fine dust that sweeping alone can't capture. Ensure the vacuum has a HEPA filter to trap tiny particles effectively.
Microfiber mop or cloth: These are excellent for capturing remaining dust and achieving a polished finish.
Water: You'll need clean, lukewarm water for damp mopping.
White vinegar: If your floors are non-porous, you can mix a solution of one part white vinegar to four parts water for more stubborn dust.
Mild dish soap: If your floors are sealed and can tolerate a gentle cleaning solution, a few drops of mild dish soap can be added to your water mixture.
Commercial floor cleaner: Use a product specifically designed for your type of flooring, following the manufacturer's instructions.
Bucket: To hold your cleaning solution.
Mop bucket with wringer: If you're using a mop, having a bucket with a wringer will help you control the moisture level on the mop head.
Furniture sliders or moving blankets: To protect your furniture and prevent further dust accumulation during cleaning.
Plastic sheeting or drop cloths: Cover any large or sensitive items you can't move to protect them from dust and potential moisture.
Steam mop: If you have a sealed, non-porous floor, a steam mop can help remove stubborn dust and sanitize the surface.
Soft-bristle brush or paintbrush: For cleaning hard-to-reach corners and crevices.
Rubber gloves: Protect your hands when handling cleaning solutions and wet cleaning.
Once you've gathered all these tools and supplies, you'll be well-prepared to tackle the task of cleaning drywall dust off your floors effectively and efficiently. The right equipment and safety precautions will ensure your cleaning process goes smoothly and leave your floors looking immaculate.
Importance of Cleaning of Drywall Dust off Wood Floors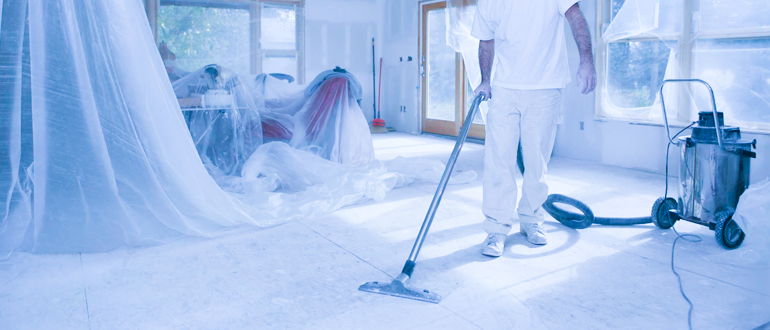 Leaning drywall dust off wood floors is essential for a variety of compelling reasons. First and foremost, it's about preserving the floor's quality. Wood floors are an investment, and they require proper care to maintain their original beauty and structural integrity. Drywall dust, with its abrasive nature, can gradually wear down the floor's finish if not promptly removed.
Additionally, failure to clean drywall dust can lead to permanent stains or discoloration on the wood. The dust particles may contain gypsum and paint remnants, and when left unattended, these substances can leave unsightly marks that mark the floor's appearance.
Beyond aesthetics, there are health considerations. Drywall dust particles are minuscule and can become airborne, posing risks to respiratory health when inhaled. Regular cleaning is essential to prevent health issues and maintain better indoor air quality.
Furthermore, drywall dust on wood floors can make surfaces dangerously slippery, increasing the risk of accidents, especially in high-traffic areas. Cleaning the dust helps ensure a safe environment.
Maintaining a clean home environment is another significant factor. Drywall dust settles on various surfaces, affecting overall hygiene. By addressing the source of the problem – the floors – you can better maintain cleanliness throughout your living spaces.
Lastly, well-maintained wood floors not only enhance your living space but also contribute to the property's value. Regular cleaning ensures your floors remain an attractive feature if you ever decide to sell your home.
In conclusion, the importance of cleaning drywall dust off wood floors extends beyond mere aesthetics; it's about safeguarding your investment, ensuring safety, promoting good health, and maintaining the overall appeal and value of your home.
Removing Loose Drywall Dust from the Floors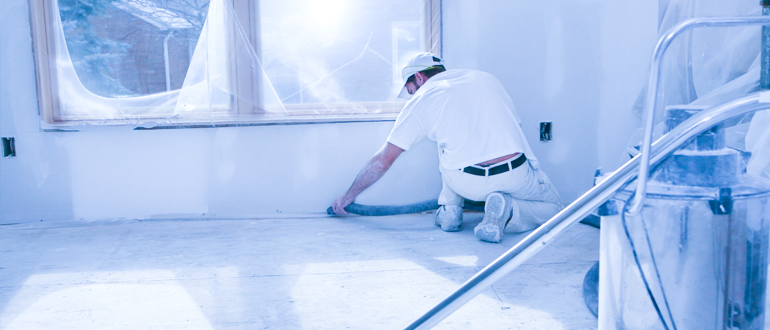 Removing loose drywall dust from your floors is the first step in the cleaning process. Here's how you can effectively get rid of the loose dust:
Put on Safety Gear: Before you start, don a dust mask or respirator to protect your lungs from inhaling the fine dust particles, and wear safety goggles to shield your eyes.
Clear the Area: Remove any furniture, rugs, or objects from the floor to ensure you have a clear working space.
Sweep with a Soft-Bristle Broom:
Start by gently sweeping the floor using a soft-bristle broom. The soft bristles will help prevent scratching the surface of the floor.
Begin at one end of the room and work your way toward the exit to avoid walking on the swept area.
Collect Dust with a Dustpan:
As you sweep, gather the loose dust into a pile.
Carefully scoop the dust into a dustpan and dispose of it in a trash bag or container.
After sweeping, use a vacuum cleaner with a HEPA filter to capture the remaining fine dust that sweeping might have missed.
Go over the entire floor, paying attention to corners, edges, and any gaps between floorboards.
Inspect the floor for any remaining drywall dust. If you still notice areas with dust, repeat the sweeping and vacuuming process until the floor is entirely dust-free.
Empty and Clean the Vacuum: After using the vacuum, empty its dustbin or replace the vacuum bag outside to prevent the dust from re-entering your living space. Wipe down the vacuum's exterior and clean the HEPA filter if necessary.
By following these steps, you'll effectively remove loose drywall dust from your floors, creating a clean and dust-free surface.
Damp Mopping the Floors with Water or a Floor Cleaner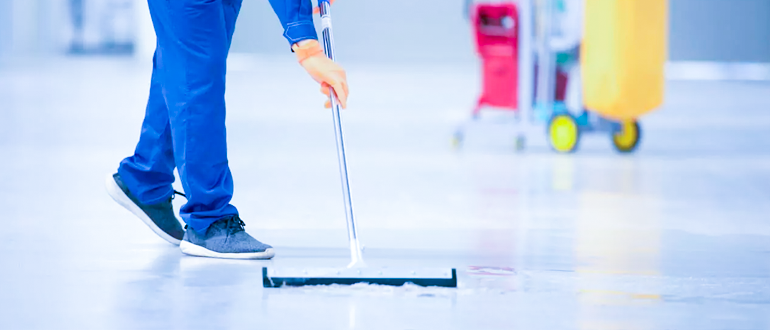 Damp mopping is the next crucial step in cleaning your floors after removing loose drywall dust. It helps to remove any remaining fine dust particles and provides a thorough cleaning. You can choose between using water alone or a suitable floor cleaner based on your flooring type and its condition. Here's how to damp mop your floors effectively:
Materials Needed:
A mop (microfiber or a mop appropriate for your floor type)
A bucket
Clean, lukewarm water
Floor cleaner (if needed, choose one recommended for your floor type)
White vinegar (as an alternative to commercial floor cleaner, if preferred)
Rubber gloves (optional)
Microfiber cloth (for spot cleaning, if necessary)
Steps:
Attach the appropriate mop head or pad to your mop, ensuring it's clean and in good condition.
Prepare the Cleaning Solution:
Fill a bucket with clean, lukewarm water. If you're using a commercial floor cleaner, follow the manufacturer's recommended dilution instructions.
Alternatively, you can create a DIY cleaning solution by mixing one part white vinegar with four parts water for a gentle, homemade option.
Dip the mop head or pad into the cleaning solution, then wring it out thoroughly. You want the mop to be damp but not soaking wet.
Begin mopping in one corner of the room and work your way towards the exit to avoid stepping on the freshly cleaned area.
Mop in overlapping, "S" or figure-eight motions, depending on your preference. This ensures thorough coverage and minimizes streaks.
Apply gentle pressure on the mop, but avoid excessive force to prevent potential damage to the floor's finish.
Rinse and Wring Out the Mop as Needed:
Rinse the mop head or pad in the bucket and wring it out again when it becomes soiled or too wet.
For stubborn spots or stains, you can use a microfiber cloth dampened with the cleaning solution to spot clean.
Allow the Floor to Air Dry:
After completing the mopping, allow the floor to air dry completely. Ensure that no one walks on it until it's dry to prevent streaking or damage.
Dispose of Cleaning Solution Properly:
Dispose of the used cleaning solution as per local regulations. If using a DIY vinegar solution, you can pour it down the drain.
By damp mopping your floors with water or a suitable floor cleaner, you'll effectively remove any remaining drywall dust and leave your floors clean and refreshed. Remember to follow the manufacturer's guidelines for your specific floor type and cleaning product to ensure the best results and preserve the floor's finish.
FAQs
Here are some frequently asked questions (FAQs) about cleaning drywall dust off floors, along with their answers:
Q: Why is drywall dust so challenging to clean from floors?
A: Drywall dust is fine and powdery, making it easily airborne and prone to settling on surfaces. Its fine particles can be stubborn to remove and may require specific cleaning methods.
Q: Can I skip the initial dry sweep and go straight to damp mopping?
A: It's not recommended to skip the initial dry sweep or vacuuming step. Removing loose drywall dust first prevents it from becoming muddy when mixed with water or cleaning solution during damp mopping.
Q: Can I use any type of mop for damp mopping my floors?
A: The choice of mop depends on your flooring type. Microfiber mops are generally suitable for most floor types. However, for hardwood floors, you should use a mop designed for wood surfaces to prevent damage.
Q: Is it safe to use water alone to clean drywall dust off floors?
A: Water alone can be effective for cleaning some types of flooring, but it may not address all residues. For stubborn dust or stains, consider using a recommended floor cleaner or a vinegar-water solution.
Q: How often should I clean drywall dust off my floors during a renovation project?
A: It's a good practice to clean your floors daily or as needed during a renovation project to prevent dust buildup. The frequency depends on the extent of the construction work and your home's layout.
Q: Can I use a regular vacuum cleaner to remove drywall dust?
A: While a regular vacuum cleaner can be used, it's essential to have one with a HEPA filter to effectively capture fine drywall dust particles. Without a HEPA filter, the dust may escape back into the air.
Q: Can I use a steam mop to clean drywall dust from floors?
A: Steam mops are suitable for sealed, non-porous floors, but they may not be ideal for all floor types. Ensure your flooring can withstand steam cleaning before using this method.
Q: What precautions should I take when disposing of drywall dust and cleaning materials?
A: Dispose of drywall dust and used cleaning materials in accordance with local regulations. Dust should be sealed in a plastic bag, and any chemicals should be disposed of properly.
Q: Is it necessary to wear safety gear when cleaning drywall dust off floors?
A: Yes, it's advisable to wear a dust mask or respirator and safety goggles when cleaning drywall dust to protect your respiratory health and eyes from airborne particles.
Q: How can I prevent drywall dust from spreading to other areas of my home?
A: Seal off the construction or renovation area with plastic sheeting or drop cloths to contain the dust. Close doors and use draft stoppers to minimize dust migration to other rooms.
These FAQs should provide you with valuable information for effectively and safely cleaning drywall dust off your floors during and after a renovation or construction project.
Conclusion
In conclusion, cleaning drywall dust off floors is a critical task that goes beyond mere aesthetics. It is about preserving the quality of your floors, maintaining a safe and healthy living environment, and safeguarding the value of your home.
Starting with the removal of loose drywall dust through sweeping and vacuuming, you ensure that abrasive particles do not harm the floor's finish. Additionally, Damp mopping, whether with water or a suitable floor cleaner, completes the process by eliminating any remaining dust and leaving your floors fresh and spotless.
Remember to wear appropriate safety gear, choose the right cleaning tools and solutions for your floor type, and dispose of materials properly. Regular cleaning during renovation projects and routine maintenance will help you enjoy clean, beautiful floors for years to come.
By following the steps and tips outlined in this guide, you can ensure that your floors not only look their best but also contribute to a clean, safe, and comfortable living space for you and your family. So, roll up your sleeves and transform your dusty floors into a pristine and inviting home once again.
You May Also Like To Read:
Best Cleaner for Engineered Hardwood Floors
How To Stop Furniture From Sliding on Hardwood Floors