Have you ever strolled gracefully across a room only to suddenly find yourself struggling to maintain your balance on a slippery wood floor? Fear not, for you have arrived at the right place to unveil the secrets of enhancing both the safety and aesthetic appeal of your living spaces. Let's explore how to make wood floors less slippery effectively.
Imagine a scenario where you can confidently glide across your wooden floors, appreciating the natural beauty of the material without a hint of worry. In this guide, we will embark on a journey to uncover the art of making wood floors less slippery while preserving their timeless charm.
From selecting the right finishes that enhance grip without compromising aesthetics, to exploring various DIY methods that cater to your individual preferences, we're here to empower you with a range of options. Discover the wonders of rugs and mats, explore the world of anti-slip treatments, and delve into the realm of proper maintenance to uphold your wood floors' enduring charm.
Why is Your Wood Floor Slippery?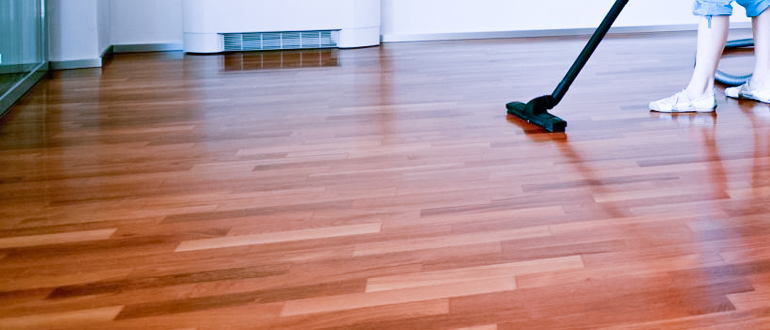 The slipperiness of a wood floor can stem from several factors, each contributing to the potential hazard of walking on the surface. Understanding these factors is crucial in addressing the issue effectively and making your wood floor safer to walk on. Here are some common reasons why a wood floor might be slippery:
1). Finishes and Sealants:
Many wood floors are finished with coatings like polyurethane or varnish to protect the wood and enhance its appearance. However, certain finishes can create a smooth surface that lacks traction, making it more slippery, especially when wet.
2). Polishing:
Regular polishing can enhance the shine and aesthetics of your wood floor, but it can also contribute to its slipperiness. Polishing agents can create a smooth surface that reduces grip, especially if overused.
3). Dirt and Dust:
Accumulated dirt, dust, and debris can create a thin layer on the surface of the wood floor, making it slippery. These particles can also act as lubricants when compressed underfoot.
4). Humidity and Moisture:
Wood is sensitive to changes in humidity and moisture levels. When wood absorbs moisture, it can swell and become smoother, increasing slipperiness. Wet spots, spills, or high humidity can exacerbate this issue.
5). High Gloss Finishes:
Glossy or high-shine finishes can look stunning but often have a smoother surface, reducing friction and making them more slippery, especially when wet.
6). Lack of Texture:
Some wood floors lack natural texture, which can reduce traction. Natural grain and texture in the wood can provide some level of grip, but smoother wood may lead to increased slipperiness.
7). Worn Finishes:
Over time, finishes on wood floors can wear down, creating uneven surfaces that may be more slippery, as well as exposing the wood to potential moisture absorption.
8). Inadequate Cleaning:
Incorrect cleaning methods or using the wrong cleaning products can leave a residue that makes the floor slippery. Additionally, some cleaning products themselves might contain substances that contribute to slipperiness.
9). Footwear:
The type of footwear worn on the wood floor can also influence slipperiness. Smooth-soled shoes or high heels can reduce traction.
Addressing the slipperiness of a wood floor involves considering these factors and taking appropriate measures to enhance safety without compromising the floor's aesthetics. By understanding the reasons behind the slipperiness, you can tailor your approach to create a secure and comfortable environment for walking on wood floors.
Best Ways to Make Wood Floors Less Slippery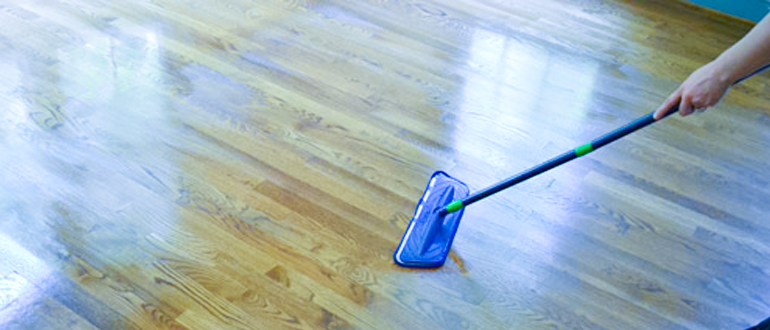 Making wood floors less slippery involves a combination of preventive measures, surface treatments, and maintenance practices. Here are some of the best ways to achieve safer wood floors:
1). Choose the Right Finish:
Opt for finishes that offer a good balance between aesthetics and slip resistance. Matte or satin finishes tend to provide more traction compared to high-gloss finishes.
2). Add Rugs and Mats:
Placing area rugs or mats strategically in high-traffic areas, such as entrances and hallways, can provide an extra layer of grip and reduce the risk of slipping. Make sure the rugs have non-slip backings or use rug pads underneath.
3). Apply Anti-Slip Treatments:
There are various anti-slip products available that can be applied to the surface of the wood floor. These treatments create a textured layer that enhances traction. They can be in the form of sprays, tapes, or coatings. Always test in an inconspicuous area first to ensure they don't negatively affect the floor's appearance.
4). Clean Regularly:
Keep your wood floors clean by sweeping, vacuuming, or using a dust mop to remove dirt and debris that can contribute to slipperiness. Use a cleaner recommended for your specific wood floor type to prevent residue buildup.
5). Avoid Excess Moisture:
Wipe up spills promptly and avoid excessive moisture on the wood floor, as water can make the surface slippery. Use absorbent mats near entryways to help trap moisture from shoes.
6). Use Non-Slip Furniture Pads:
Place non-slip pads or felt pads under furniture legs to prevent them from sliding or scratching the floor. This can also help reduce the risk of accidental slips.
7). Provide Footwear Guidelines:
Encourage household members or visitors to wear footwear with rubber or textured soles, which can provide better traction on wood floors.
8). Regular Maintenance:
Keep an eye on the condition of your wood floor's finish. If it's worn or damaged, consider refinishing the floor to restore its slip-resistant properties.
9). Sand or Texture:
If you're open to a more involved solution, you could sand the surface slightly to add texture, creating a safer walking surface. However, this should be done carefully to avoid damaging the wood.
Remember that the safety of your wood floors doesn't have to come at the expense of their beauty. By implementing these measures, you can enjoy the warmth and elegance of wood floors while minimizing the risk of slips and falls.
DIY Project to Make Wood Floors Less Slippery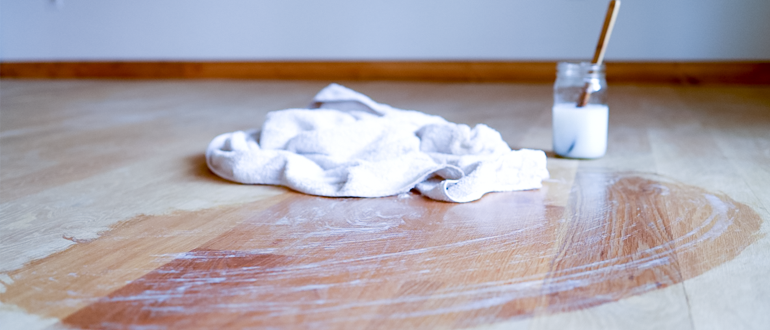 Here's a DIY project to make wood floors less slippery using a homemade anti-slip solution:
DIY Anti-Slip Treatment for Wood Floors:
Materials You'll Need:
Fine Sandpaper: To create texture on the surface.
Painter's Tape: To protect baseboards and walls.
Clear Polyurethane Sealant: Provides a protective coat.
Fine Silica Sand: Provides texture for slip resistance.
Stir Stick or Paint Stirrer: For mixing the sealant and sand.
Paint Tray and Roller: For easy application.
🢂 Steps To Follow:
Sepe-1 🡆 Clean the Floor: Thoroughly clean the wood floor to remove dust, dirt, and any existing finishes. You can use a wood cleaner or a mixture of water and mild dish soap. Allow the floor to dry completely.
Sepe-2 🡆 Sand the Floor: Using fine-grit sandpaper, lightly sand the surface of the wood floor. This will help create a slightly rough texture that enhances grip. Make sure not to sand too aggressively to avoid damaging the wood.
Sepe-3🡆 Protect Baseboards and Walls: Use painter's tape to protect the baseboards and walls around the perimeter of the room from any sealant or sand spills.
Sepe-4 🡆 Mix the Anti-Slip Solution: In a paint tray, mix the clear polyurethane sealant with fine silica sand. Start with a small amount of sand and mix it thoroughly. You want the mixture to be thick enough to provide texture but not so thick that it's difficult to apply.
Sepe-5 🡆 Apply the Solution: Using a paint roller, apply the mixture evenly across the wood floor. Work in small sections to ensure even coverage. Keep a wet edge to prevent unevenness.
Sepe-6 🡆 Allow to Dry: Allow the solution to dry according to the manufacturer's instructions. This will usually take a few hours. Make sure the room is well-ventilated during this time.
Sepe-7 🡆 Apply Additional Coats (Optional): Depending on the level of slip resistance you desire, you can apply additional coats of the anti-slip mixture. Make sure to sand lightly between coats for better adhesion.
Sepe-8 🡆 Final Drying Time: Allow the final coat to dry for at least 24 hours before walking on the floor or placing the furniture back in the room.
Sepe-9 🡆 Enjoy Your Safer Floor: Once the solution has fully dried, you'll have a wood floor with enhanced slip resistance while maintaining its natural appearance.
It's important to note that testing the solution in a small, inconspicuous area is recommended before applying it to the entire floor. Additionally, this DIY project alters the appearance of the floor slightly due to the added texture, so consider the aesthetics before proceeding.
The Most Common FAQs
Here are some frequently asked questions (FAQs) about making wood floors less slippery along with their answers:
Q1: Why are my wood floors slippery?
A: Wood floors can become slippery due to factors such as high-gloss finishes, dirt and dust accumulation, humidity or moisture, and certain types of footwear.
Q2: How can I make my wood floors less slippery without changing their appearance?
A: You can use non-slip area rugs, apply clear anti-slip coatings or sprays, use non-slip rug pads, and keep the floor clean to improve traction without altering the appearance significantly.
Q3: Can I use common household products to make my wood floors less slippery?
A: Yes, you can mix equal parts water and vinegar to create a natural cleaning solution that can remove residues making the floor slippery. However, be cautious and test it in a small area first to ensure it doesn't damage the finish.
Q4: How do I know if a product is safe for my wood floor?
A: Always check the manufacturer's recommendations and test the product in an inconspicuous area first to ensure it doesn't cause any damage or discoloration.
Q5: Are there specific finishes that are less slippery?
A: Matte or satin finishes tend to provide more grip than high-gloss finishes. Water-based finishes also tend to be less slippery than oil-based ones.
Q6: Can I sand my wood floors to make them less slippery?
A: Sanding your wood floors can add texture and improve traction, but it should be done carefully and in moderation to avoid damaging the wood.
Q7: How often should I clean my wood floors to prevent slipperiness?
A: Regular cleaning with a broom, vacuum, or dust mop is recommended to prevent dirt buildup. Clean up spills promptly to avoid moisture-related slipperiness.
Q8: Can I use adhesive-backed non-slip strips on wood floors?
A: Yes, adhesive-backed non-slip strips or tapes can be used, but they may leave a residue on the floor when removed. Test in a small area first to assess their suitability.
Q9: Are there professional services available to improve the slip resistance of wood floors?
A: Yes, some companies offer professional anti-slip treatments that can enhance traction on wood floors. These treatments often involve applying specialized coatings or solutions.
Q10: Can I wax my wood floors to make them less slippery?
A: Waxing can add a layer of slip resistance, but it's important to choose the right wax that's compatible with your wood floor finish. Consult the manufacturer's guidelines before using wax.
Remember that each wood floor is unique, so it's important to consider the specific type of wood and finish you have before implementing any changes to enhance slip resistance. If you're unsure, consider consulting with professionals who specialize in wood floor care and maintenance.
Conclusion
In conclusion, In the pursuit of a harmonious blend between safety and elegance. And You have embarked on a journey to transform your wood floors into secure havens. That reflects your impeccable taste and prioritizes your well-being. As you conclude your quest to make your wood floors less slippery. Furthermore, take a moment to reflect on the valuable insights. First, you've gathered the practical solutions you've explored.
Throughout this endeavor, you've learned that the slipperiness of wood floors can stem from a variety of factors, from finishes and humidity to foot traffic and maintenance practices. Armed with this knowledge, you've uncovered an array of strategies that can seamlessly integrate into your lifestyle, ensuring that every step you take is confident and secure.
By employing non-slip solutions, embracing proper cleaning practices, and choosing the right footwear, you've gained the tools to conquer slipperiness without compromising the inherent allure of wood floors. Your commitment to routine maintenance and informed decision-making has unlocked a world where beauty and safety can coexist harmoniously.
As you continue to tread upon your wood floors, may you do so with newfound assurance, knowing that you've empowered yourself with the wisdom to navigate these surfaces with grace and security. Your journey to making wood floors less slippery is not only a testament to your dedication to creating a safe environment but also a testament to your appreciation for the timeless elegance that wood floors bring to your spaces.
You May Also Like To Read:
How to Dirt in Grooves of Hardwood Floors
How to Make Hardwood Floors Look New Without Refinishing