Welcome to the world of cozy comfort and elegance! If you're ready to transform your living space into a haven of warmth and luxury, installing heated floors under hardwood is a brilliant choice. Imagine stepping onto a floor that radiates a gentle, enveloping warmth, even during the coldest days of winter. Let's explore the pros and cons and how to install heated floors under hardwood efficiently.
Whether you're renovating your home or embarking on a new construction project, heated floors bring a touch of modern innovation that enhances both your living experience and the aesthetics of your space. In this guide, we'll take you through the art of installing heated floors under the hardwood, unraveling the steps to create a harmonious blend of cutting-edge technology and timeless design.
From selecting the appropriate heating system to ensuring seamless integration with your chosen hardwood flooring, we've got you covered. Whether you're a seasoned DIY enthusiast or new to the world of home improvement, this comprehensive introduction will provide you with the knowledge and confidence needed to embark on this transformative journey.
The Pros and Cons to Install Heated Floors Under Hardwood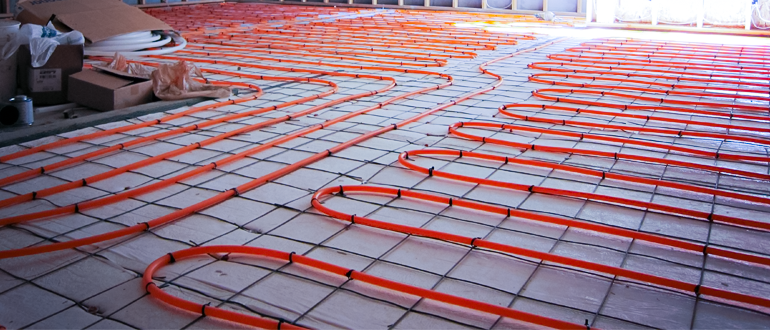 Installing heated floors under hardwood comes with its own set of advantages and considerations. Let's explore the pros and cons of this luxurious home upgrade:
Pros:
Ultimate Comfort: Heated floors provide consistent, radiant warmth that envelops your living space. Walking on a cozy floor during chilly seasons is a delightful experience.
Energy Efficiency: Modern heated floor systems are designed to be energy-efficient. They can maintain a comfortable temperature using lower energy consumption compared to traditional heating methods.
Even Heat Distribution: Radiant heating spreads warmth evenly across the room, eliminating cold spots and drafts commonly associated with traditional heating systems.
Aesthetic Appeal: Installing heated floors under hardwood preserves the elegance of your space. There are no visible radiators or vents, allowing you to enjoy unobstructed design and layout choices.
Space Saving: As heating elements are installed beneath the floor, you free up wall space that would have been taken up by radiators or heating units.
Quiet Operation: Heated floors operate silently, providing comfort without any noise associated with forced-air systems.
Allergen Reduction: Radiant heating reduces the circulation of airborne allergens as there are no vents to blow allergens around, making it a great option for those with allergies.
Cons:
Installation Cost: Heated floor systems, along with their installation, can be initially expensive. This includes the cost of the heating system, materials, and professional installation.
Installation Complexity: Installing heated floors, especially under hardwood, can be more complex and time-consuming compared to traditional heating methods.
Flooring Compatibility: Not all hardwoods are suitable for heated floor installation. Thicker woods and engineered hardwood are often recommended due to their stability under temperature changes.
Floor Height Increase: Heated floor systems can raise the overall floor height, potentially causing issues with door clearance and transitions to other rooms.
Responsive Heating: Radiant heating takes time to warm up and cool down, which might not be as responsive as turning a traditional heating system on or off.
Maintenance and Repairs: While modern systems are generally durable, if maintenance or repairs are required, accessing the heating elements beneath the hardwood can be challenging.
Energy Efficiency Consideration: While heated floors are efficient in the long run, the initial energy consumption during the warm-up phase might be higher compared to traditional systems.
In weighing these pros and cons, it's important to consider your budget, long-term goals, and the specific needs of your living space. Heated floors under hardwood can undoubtedly provide a luxurious and comfortable living environment, but it's essential to make an informed decision based on your unique circumstances.
The Best Methods to Install Heated Floors Under Hardwood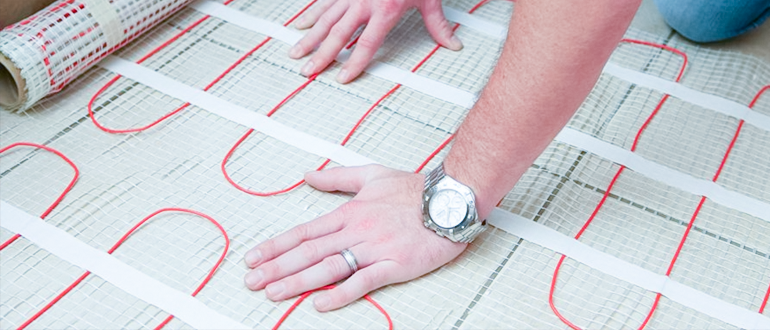 Installing heated floors under hardwood requires careful planning and execution to ensure optimal comfort and functionality. Here are some of the best methods for achieving a successful installation:
1). Electric Radiant Heating:
This method involves installing electric heating cables or mats directly under the hardwood floor. The heating elements are connected to a thermostat and are either embedded in thin-set mortar or attached to the subfloor.
Pros:
Easier to retrofit into existing spaces due to minimal floor height increase.
Provides even heat distribution when installed correctly.
Can be controlled individually for different zones.
Cons:
Higher operating costs compared to hydronic systems.
May require professional installation for optimal results.
Hardwood flooring choice is critical as some woods may not conduct heat effectively.
2). Hydronic Radiant Heating: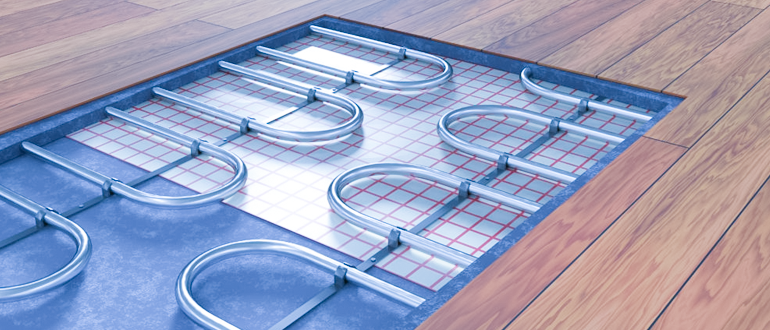 Hydronic systems use hot water flowing through a network of pipes to heat the floor. These pipes can be embedded in a concrete slab or attached to the subfloor, with heat transferred to the hardwood.
Pros:
Generally more energy-efficient than electric systems.
Provides consistent and gradual heat distribution.
Can be integrated with other heating systems, such as radiators or baseboards.
Cons:
Requires professional installation due to the complexity of piping and connections.
Initial installation costs can be higher, especially if retrofitting an existing space.
Longer warm-up time compared to electric systems.
3). Floating Subfloor Panels:
In this method, heated panels are installed on top of the subfloor, creating a heated floating subfloor. Hardwood flooring is then installed over the heated panels.
Pros:
Can be a DIY-friendly option due to the simpler installation process.
Suitable for retrofitting existing spaces without major modifications.
Provides flexibility in flooring choices.
Cons:
Floor height increases due to the added layers.
May not be as efficient as other methods in terms of heat transfer.
Requires careful consideration of insulation to prevent heat loss.
4). Heat Diffusion Plates:
Heat diffusion plates are installed between the subfloor and the hardwood flooring. These plates help distribute the heat more evenly across the hardwood.
Pros:
Suitable for retrofitting projects where adding pipes or cables might be difficult.
Provides efficient heat transfer across the hardwood floor.
Can work well with both electric and hydronic systems.
Cons:
Requires precision installation to ensure even heat distribution.
May slightly increase the overall floor height.
Not as common as other methods, so finding compatible components might be more challenging.
Regardless of the method you choose, it's essential to consult with professionals, such as heating contractors and flooring experts, to determine the best approach for your specific needs. Factors like insulation, moisture barriers, and hardwood flooring compatibility are crucial considerations that can greatly impact the success and efficiency of your heated floor installation under hardwood.
FAQs
Here are some frequently asked questions (FAQs) regarding the installation of heated floors under hardwood:
Q: Can I install heated floors under any type of hardwood flooring?
A: Not all hardwoods are suitable for heated floor installations. Thicker-engineered hardwood or solid wood flooring with stable construction is generally recommended. Consult with flooring experts to choose the right hardwood for your heated floor project.
Q: How much does it cost to install heated floors under hardwood?
A: The cost varies based on factors such as the heating system type, square footage of the area, labor costs, and location. Electric systems might have a lower initial cost, while hydronic systems can be more expensive due to installation complexity.
Q: Will heated floors raise my energy bills significantly?
A: While there will be an increase in energy consumption, modern heated floor systems are designed to be energy-efficient and offer zoned heating control, which can help manage costs.
Q: Can I install heated floors as a DIY project?
A: Simple electric mat installations might be manageable for DIY enthusiasts with electrical and flooring experience. However, for more complex systems like hydronic heating, professional installation is recommended to ensure safety and optimal performance.
Q: How long does it take to heat up the floors?
A: Heating times depend on the type of system and floor materials used. Electric systems tend to heat up more quickly, while hydronic systems might take longer due to the water's heat transfer time.
Q: Will heated floors damage my hardwood flooring?
A: Properly installed heated floors should not damage hardwood flooring. However, extreme temperatures or moisture-related issues can potentially affect the wood. Make sure the heating system is installed according to manufacturer and industry guidelines.
Q: Do I need to make any special accommodations for the subfloor?
A: The subfloor needs to be properly prepared and insulated to ensure efficient heat transfer and prevent heat loss. Consult with professionals to determine the right subfloor preparation for your chosen heating method.
Q: Can I control the temperature of each room individually?
A: Many modern heated floor systems offer zoning options, allowing you to control the temperature of different areas or rooms independently for maximum comfort and energy efficiency.
Q: Can heated floors be installed in bathrooms and kitchens?
A: Yes, heated floors are commonly installed in bathrooms and kitchens. In fact, they can be especially beneficial in these areas where cold floors are often unpleasant.
Q: How do I maintain heated floors under hardwood?
A: Maintenance is generally minimal. Regular cleaning and checking of the heating system's functionality are recommended. If you encounter any issues, contact a professional for maintenance or repairs.
Q: Can I install heated floors in an existing home or only during new construction?
A: Heated floors can be installed in both new construction and existing homes, although retrofitting might require more planning and might be slightly more complex due to existing structures.
Remember that each situation is unique, so it's wise to consult with professionals who specialize in heated floor installations and hardwood flooring to get personalized advice based on your specific project and needs.
Conclusion
In conclusion, the journey to install heated floors under hardwood is a remarkable fusion of comfort, elegance, and modern innovation. This endeavor offers a symphony of benefits while requiring careful consideration of various factors to ensure a successful and rewarding outcome.
By embarking on this venture, you open the door to a world of unparalleled warmth and comfort. The gentle radiance of heated floors envelops your living space, providing a haven of cozy luxury even on the coldest days. The even distribution of warmth eliminates cold spots, while the absence of visible heating elements preserves the timeless beauty of hardwood flooring.
However, this pursuit also demands thoughtful decision-making. Selecting the right heating method – whether electric or hydronic – requires an understanding of your space, budget, and long-term goals. The compatibility of your chosen hardwood flooring with the heating system is paramount, as is the meticulous preparation of the subfloor to ensure efficient heat transfer.
As you step onto your newly heated hardwood floors, you'll not only be greeted by a tangible warmth but also by the sense of accomplishment that comes from creating a space that beautifully marries comfort and aesthetics. The journey to install heated floors under hardwood is an investment that promises to keep on giving – a warm embrace that lasts for years to come.
You May Also Like To Read:
How to Insulate a Concrete Floor