Welcome to a world where transformation meets practicality and aesthetics blend seamlessly. If you've been contemplating a home improvement project that involves upgrading your flooring, the question of whether you can install hardwood over tile might have crossed your mind.
Fortunately, this endeavor holds promise in creating a stunning visual impact while maintaining convenience. In this exploration of possibilities, we'll delve into the art of layering luxury and functionality by discussing the feasibility, benefits, and considerations of placing hardwood over existing tile flooring. So, let's embark on this journey of enhancing your living space with the timeless allure of hardwood, all while making the most of your existing tile foundation.
The Pros and Cons of Put Hardwood Over Tile
As you consider the option of installing hardwood flooring over your existing tile, it's essential to weigh the pros and cons to make an informed decision that aligns with your vision and lifestyle. This innovative approach can certainly bring a fresh perspective to your living spaces, but it's equally important to be aware of potential challenges. Let's delve into the advantages and drawbacks of this endeavor:
Pros:
Time and Cost Efficiency: One of the most significant benefits of placing hardwood over tile is the potential cost and time savings. Removing the existing tile can be a labor-intensive and messy process, involving demolition, disposal, and potential subfloor repairs. By opting for a hardwood overlay, you can skip these steps and reduce installation time and associated costs.
Aesthetic Enhancement: Hardwood flooring exudes timeless elegance and warmth that can instantly elevate the overall aesthetics of your space. This upgrade can provide a fresh, modern look while maintaining the inherent charm of hardwood.
Versatility: Hardwood can be seamlessly integrated into various design themes and interior styles. It's natural colors and textures add character and depth, creating a harmonious blend with your existing decor.
Durability: Hardwood is renowned for its durability and longevity. Modern finishes and treatments enhance its resistance to scratches, dents, and wear, making it suitable for high-traffic areas.
Cons:
Height Differential: Installing hardwood over tile might result in an increased floor height. This can create issues with door clearances, transitions to other rooms, and even issues with appliances fitting properly.
Subfloor Requirements: The condition of the existing tile and subfloor becomes crucial. Any imperfections or irregularities in the tile or subfloor can transfer to the hardwood surface over time, potentially causing problems like squeaking or unevenness.
Moisture Concerns: While modern hardwood finishes offer some moisture resistance, water can still seep through joints and affect the wood. If the tile floor is in a moisture-prone area, proper moisture barriers and underlayment must be considered.
Lifespan: Hardwood's longevity is commendable, but its lifespan might be affected if laid directly over an uneven or damaged tile surface. This could lead to premature wear and tear, reducing the overall longevity of your new flooring.
Professional Installation: Achieving a smooth and aesthetically pleasing result requires a skilled installer. Inaccurate installation can lead to problems such as uneven flooring or gaps between planks.
In your quest to enhance your living space, it's crucial to balance the benefits with the potential drawbacks. Consider consulting with flooring professionals to assess the feasibility of installing hardwood over your existing tile, taking into account factors such as subfloor conditions, moisture levels, and long-term maintenance. By making a well-informed decision, you can transform your space while ensuring a harmonious and durable outcome.
Crucial Factors to Keep in Mind When Installing a Hardwood Floor Over Tile Flooring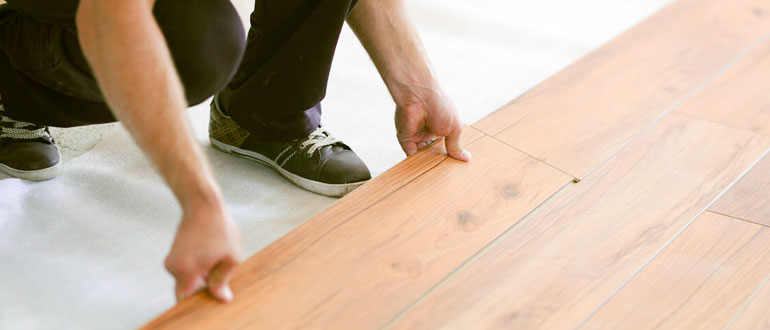 Embarking on the journey to install hardwood over your existing tile flooring is a commendable endeavor, but success lies in careful planning and meticulous execution. To ensure a seamless and lasting outcome, consider these crucial factors:
Subfloor Condition:
Before proceeding, assess the condition of the tile and its underlying subfloor. Any irregularities, cracks, or damage could affect the stability and longevity of the hardwood. Address any issues and ensure a smooth, level surface for the hardwood to rest upon.
Height Differential:
Keep in mind that adding hardwood over the tile might increase the overall floor height. This could lead to challenges with door clearances and transitions to adjacent rooms. Make sure to account for these changes and adjust accordingly.
Moisture Mitigation:
Moisture is a hardwood floor's enemy. Tile floors are typically more moisture-resistant than wood, so installing hardwood over tile in areas prone to moisture (like bathrooms or kitchens) demands careful consideration. Use appropriate moisture barriers and underlayment to protect the hardwood from potential damage.
Type of Hardwood and Installation Method:
Choose a hardwood type and installation method that best suits your space and lifestyle. Engineered hardwood, with its dimensional stability, is often recommended for installations over tile. Floating installations are popular, as they allow for some flexibility and can mitigate the effects of subfloor irregularities.
Surface Preparation:
Proper surface preparation is key to a successful installation. Thoroughly clean the tile surface, ensuring it's free from debris, dust, and any substances that could compromise the adhesion of the hardwood.
Underlayment Selection:
Select an appropriate underlayment material that provides a cushioning layer, minimizes noise, and helps with moisture control. Underlayment can also help bridge small gaps and irregularities in the tile surface.
Transition Strips and Moldings:
Plan for transition strips and moldings to create smooth, aesthetically pleasing transitions between different flooring materials and areas. These additions serve both functional and visual purposes.
Professional Installation:
While DIY is an option, professional installation is often the best way to ensure a flawless result. Experienced installers can properly address challenges, from subfloor preparation to ensuring proper expansion gaps.
Long-Term Maintenance:
Consider the long-term maintenance of your hardwood-over-tile floor. Be aware of the recommended cleaning products, maintenance routines, and potential refinishing needs to extend the lifespan of your investment.
Aesthetic Consistency:
Ensure that the aesthetic transition between the tile and hardwood is visually pleasing and harmonious. Choosing a complementary color and style of hardwood can help achieve seamless integration.
Installing hardwood over tile is a venture that combines innovation with tradition. By carefully considering these factors and collaborating with flooring professionals, you can confidently embark on this transformative journey, turning your living space into a haven of beauty and comfort that seamlessly blends the best of both worlds.
FAQs
Q: Can you put hardwood over the tile?
A: Yes, it is possible to install hardwood over existing tile flooring. However, there are several factors to consider, including the condition of the tile, the subfloor, moisture levels, and the overall feasibility of the installation.
Q: What are the benefits of installing hardwood over tile?
A: The benefits include cost and time savings compared to removing the existing tile, the aesthetic enhancement of hardwood flooring, and the versatility and durability that hardwood offers.
What are the potential challenges of installing hardwood over tile?
A: Challenges include managing height differentials, ensuring a level surface, addressing moisture concerns, and the need for proper subfloor preparation. If not done correctly, issues like uneven flooring and premature wear can arise.
Q: Can any type of hardwood be installed over the tile?
A: While solid hardwood can be used, engineered hardwood is often recommended due to its stability and resistance to moisture-related issues. Engineered hardwood is less prone to warping or expanding in response to environmental changes.
Q: Do I need to remove the tile before installing hardwood?
A: In many cases, removing the tile is not necessary, which can save time and effort. However, proper surface preparation and addressing any underlying issues are crucial for a successful installation.
Q: How is moisture controlled when installing hardwood over tile?
A: Moisture barriers and proper underlayment are essential to prevent moisture from damaging the hardwood. These barriers can help control moisture levels and protect the wood from potential issues.
Q: Will the height of the floor change when hardwood is installed over the tile?
A: Yes, the floor height will likely increase. This can impact door clearances and transitions between rooms. Proper planning and adjustments are necessary to accommodate this change.
Q: Can I install hardwood over tile in moisture-prone areas like bathrooms or kitchens?
A: While it's possible, moisture concerns are heightened in such areas. Additional precautions, such as using appropriate moisture barriers and sealants, are essential to protect the hardwood from potential damage.
Q: Can I install hardwood over different types of tile, like ceramic or porcelain?
A: Yes, hardwood can be installed over various types of tile, including ceramic and porcelain. However, proper evaluation of the tile's condition and the subfloor is crucial.
Q: Should I hire a professional for hardwood installation over tile?
A: Hiring a professional installer is recommended to ensure a successful outcome. Experienced installers have the expertise to address challenges, ensure proper installation techniques, and achieve a polished result.
Q: How can I maintain hardwood-over-tile flooring?
A: Follow the manufacturer's recommendations for cleaning and maintenance. Use appropriate cleaning products and avoid excessive moisture. Regular cleaning and proper care will help extend the life of your hardwood flooring.
Q: Can hardwood-over-tile flooring be refinished?
In most cases, yes. However, the ability to refinish the hardwood depends on the thickness of the hardwood wear layer. Consult with professionals to determine if refinishing is possible for your specific installation.
Remember, every flooring project is unique, and it's important to consult with professionals to assess the feasibility of installing hardwood over your existing tile. By gathering expert opinions and making informed decisions, you can transform your living space into a harmonious blend of style, functionality, and durability.
Conclusion
In conclusion, Embracing the elegance of hardwood while preserving the convenience of your current tile foundation is an exciting proposition. However, it's essential to approach this endeavor with meticulous planning and informed decision-making. The key takeaway from this exploration is that yes, it is indeed possible to put hardwood over tile, but the success of this undertaking hinges on several crucial factors.
From evaluating the condition of the tile and subfloor to mitigating moisture concerns and choosing the right type of hardwood and installation method, each step demands attention to detail. The interplay between aesthetics and functionality, convenience and durability, is an art that requires collaboration with skilled professionals.
As you embark on this journey to enhance your living space, keep in mind the significance of proper subfloor preparation, the careful selection of underlayment, the management of height differentials, and the consideration of long-term maintenance. The expertise of professionals in the flooring industry can guide you through these intricacies, ensuring that your vision of seamlessly blending the allure of hardwood with the foundation of tile becomes a reality.
You May Also Like To Read:
Can You Use Fabuloso on Hardwood Floors